JAPANESE AMERICAN VETERANS ASSOCIATION
1666 K Street,NW, Suite 500, Washington,D.C. 20006, c/o Gerald Yamada, Esq.
IMMEDIATE RELEASE: Vol. II
December 26, 2006 No. 28
CONTACT: Terry Shima (301-987-6746; ttshima@worldnet.att.net
FOR PHOTO: Go to JAVA website, www.javadc.org, see press release. Picture embedded in appropriate release.
- - - - - - - - - - - - - - - - - - - - - - - - - - - - - - - - - - - - - - - - - - - - - - - - - - - - - - - - - - - - - -
RADM HARRY HARRIS DISCUSSES IMPACT OF LEGACY OF JAPANESE AMERICAN VETERANS AND HIS JOB AS COMMANDER OF DETENTION CENTER AT GUANTANAMO
By Dr. Warren Tsuneishi, JAVA
Washington, D.C. Rear Admiral Harry B. Harris, Jr., Commander of the Joint Task Force facility at the U.S. Navy base in Guantanamo, Cuba, spent a relaxing evening on December 12, 2006 with members of the Japanese American Veterans Association in Rosslyn, Virginia. Rear Admiral Melvin Chiogioji, USNR, Ret, and Major General Antonio Taguba, US Army, the highest ranking Filipino-American in the Armed Forces, and Captain Tino Dinh, US Air Force, along with many Japanese American WW II veterans who organized JAVA in 1992, attended the dinner.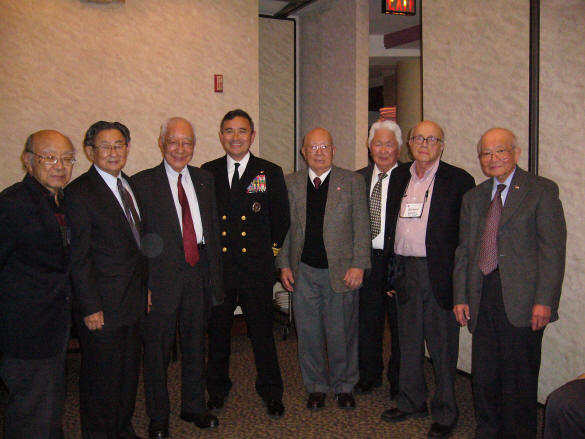 L-R: Dr. Warren Tsuneishi, MIS, Philippines; Grant Hirabayashi, MIS, Merrill's Marauders; Kelly
Kuwayama, 442nd, Medic; RADM Harry Harris, USN; Joe Ichiuji, 522nd Field Artillery Bn,
442nd RCT; Grant Ichikawa, MIS, Philippine Liberation; Richard Kleeman, MIS, Philippine
Liberation. Photo credit: Noriko Sanefuji

Harris expressed his gratitude to the WW II veterans and to the veterans of Korean, Vietnam and Gulf Wars. As a Japanese American U.S. naval officer, he was keenly aware of the legacy of extraordinary heroism established by Nisei soldiers in the European, Pacific and CBI theaters during World War II and in subsequent wars. It is this legacy, he said, that has helped Asian Americans advance to the highest ranks in all of the military services.
Turning to his job as commander of approximately 1,800 personnel charged with guarding some 400 enemy combatants, Harris said the detainees included senior al-Qaeda and Taliban leaders who, if freed, could pose an immediate threat to Americans and American interests throughout the world. He said it was his task to administer the facility in a fully transparent manner, with access provided to the press and citizen groups. He makes very effort to deal with the detainees in a humane manner.
Harris said the cells in the new camps are air conditioned because temperatures rise at times to l20 degrees with humidity levels to match and daily prayer hours are observed. Meals are prepared by the same staff who cook for the Americans; however, the food costs for the detainees are higher because meals are prepared in accordance with Muslim practices.
Admiral Harris was born in Yokosuka, Japan, and reared in Tennessee and Florida. His mother is Japanese. He graduated from the US Naval Academy in 1978.
His operational tours included assignment as a Tactical Action Officer onboard USS Saratoga, Operations Officer during Operations Desert Shield/Desert Storm. He served onboard naval vessels and on land components in the US and overseas, including three tour to Kami Seya, Japan. In Operation Enduring Freedom, the liberation of Afghanistan, he flew nearly 1,000 combat sorties over Afghanistan. He obtained an MPA degree from Harvardís John F. Kennedy School of Government in 1992, Subsequently, he was an Arthur S. Moreau scholar studying international relations and ethics of war at Oxford and Georgetown Universities, from the latter of which he received an MA in National Security studies.
A P-3C Naval Flight Officer, Harris has logged 4,400 flight hours, including 400 combat hours. His personal decorations include the Defense Superior Service Medal, the Legion of Merit (3 awards), Bronze Star (2 awards) and various other medals and campaign and unit decorations. 30