JAPANESE AMERICAN VETERANS ASSOCIATION

1666 K Street,NW, Suite 500, Washington,D.C. 20006, c/o Gerald Yamada, Esq.

IMMEDIATE RELEASE:

December 10, 2004

CONTACTS:

Terry Shima (301-987-6746; ttshima@worldnet.att.net)

Thomas Mukai (703-751-1550;

tvictor@attglobal.net)

FOR PHOTO: Open JAVA website (

www.javadc.org), left column, scroll down and press "press releases". Click on picture to enlarge. Photo credit: JAVA.

- - - - - - - - - - - - - - - - - - - - - - - - - - - - - - - - - - - - - - - - - - - - - - - - - - - - - - - - - - - - - -

NISEIS AND AFRICAN AMERICANS DISCUSS RACE AND AMERICAíS WARS. PRESIDENT TRUMAN PRAISED FOR ABOLISHING SEGREGATION IN ARMED FORCES.

Washington, D.C. Two African Americans and two Japanese Americans expressed their views during a panel discussion on discrimination in the Armed Forces during WW II and the Korean Conflict at the Smithsonian National Museum American History Behring Center on November 16, 2004. They agreed they were fighting two wars: the war overseas to preserve the democratic system and the effort at home to fight prejudice and discrimination The well-attended program was jointly sponsored by the Smithsonian Asia Pacific American Program, the National Japanese American Memorial Foundation and the Japanese American Veterans Association.

Dr. Franklin Odo, Director of Smithsonianís Asia Pacific American Program, served as the moderator. The panel participants included veterans of the segregated 442nd Regimental Combat Team, Colonel Jimmie Kanaya, U.S. Army, Retired, of Gig Harbor, Washington and Yeiichi Kelly Kuwayama of Washington, D.C., and of the segregated 92nd Infantry Division, Colonel Lee Archer, U.S. Army, Retired, of the Tuskegee Airmen, and Colonel Harold Montgomery, U.S. Army, Retired.
African Americans have fought in every major conflict in which the United States was involved. Their service included the Revolutionary War, the Civil War in which African Americans made up 12% of the Union army and earned 20 Medals of Honor; the Spanish American War, WW I and WW II. African Americans proved their bravery and patriotism each time to remind those who tended to forget their historic contributions. African Americans were commonly assigned menial jobs because their Caucasian American military leaders perceived they were not motivated and aggressive enough to fight.
The 92nd Infantry Division served in France in WW I. In the Spring of 1944, the Government reluctantly rescinded its policy to exclude African Americans from combat. While the junior officers were African Americans, the senior officers were Caucasians. In July 1944 the 92nd Infantry Division landed in Naples, Italy. The 92nd fought with distinction in three military campaigns: Rome-Arno, North Apennines, and Po Valley. In a quirk of fate, the 100th/ 442nd Regimental Combat Team was attached to the 92nd Division in the final Po Valley campaign, thereby pitting two of America's segregated units against a common enemy.
"Tuskegee Airmen", the nickname for the 332nd Fighter Group, is the name used to describe 1,000 African American pilots, 445 of whom served as combat pilots in Europe, North Africa and the Mediterranean in WW II. Trained in Tuskegee , Alabama, the Tuskegee airmen flew bomber escorts on over 15,000 sorties between May 1943 and June 1945 and won the distinction of not having lost a single bomber they escorted to enemy fighters . However, the airmen were not content to fly bomber escorts. They lobbied and finally were recognized as fighter pilots. They destroyed 251 enemy aircraft and won over 800 medals.
Sixty-six Tuskegee airmen were killed in action and 32 were shot down and became prisoners of war. The myth that fed segregation, inequity and injustice in the Army Air Corps was broken by the Tuskegee airmenís accomplishments and esprit de corps. Earlier, Mrs. Eleanor Roosevelt interceded with President Franklin D. Roosevelt for equality to African Americans by allowing them to become fighter pilots. The Army Air Corps resisted and this resistance challenged the Tuskegee Airmen to excel both in flying and motivation. The Airmen adopted Mrs. Rooseveltís words as their fighting creed: the double V, victory to defeat the enemy and victory against prejudice and discrimination on the home front.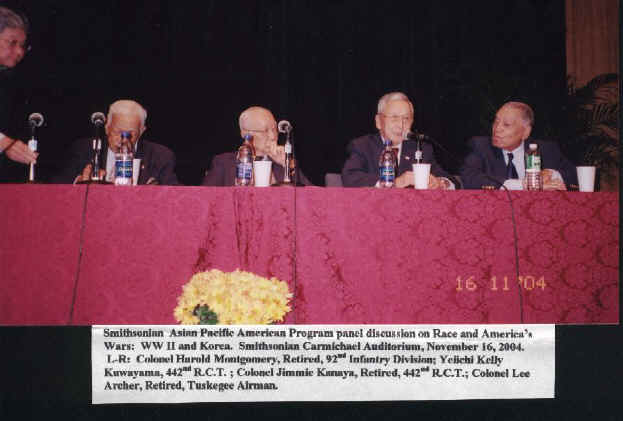 The 442nd Regimental Combat Team, whose enlisted ranks were made up of volunteers from Hawaii and the Mainland, many from internment camps, fought in Italy and France in WW II. The 442nd and the 100th Bn, which preceded the 442nd to Italy and in effect became the 1st Bn when the 100th joined the 442nd , won over 18,000 individual awards, including 21 Medals of Honor and seven Presidential Unit Citations, and sustained huge casualties. Starting with about 6,000 men, by warís end some 15,000 eventually served in the 100th/442nd.
In one of the Army's fiercest battles in its history, the 100th/442nd rescued the 1st Battalion, 141st Regiment, 36th (Texas) Division that was trapped and faced annihilation in France. In appreciation, the members of the 100th/442nd were proclaimed Honorary Texas Citizens. At the same time, some 3,000 Japanese American linguists served in the Military Intelligence Service in the Asia Pacific theater as interpreters, translators, and in direct combat. Their contributions were so uniquely distinguished that General Douglas MacArthur remarked: "Never in military history has a commander gone into war knowing so much about the enemy".
The four panelists agreed that discrimination in the armed forces against racial minorities during WW II was the beginning of the end of racial segregation in the Armed Forces. The reason for this change was the execution on July 26, 1948 of President Harry S. Trumanís Executive Order number 9981, which ordered desegregation in the armed forces. Though the stage to desegregate the Armed Forces was set, it would be years before significant changes took effect.
Trumanís recognition of the faults of segregation in the armed forces was reflected in his actions on July 15, 1946 when he reviewed the Nisei troops, after they marched down Constitution Avenue upon their return from Europe. Truman told the Japanese Americans: "you fought the enemy overseas and prejudice at home, and you won Ö keep up that fight." Previously, when Trumanís aide suggested that he cancel his participation in the review because it was raining, Truman replied, "For what those boys had gone through, I can stand a little rain."
Dr. Odo said that racial status defined how individuals of color were commanded and treated in the military, often reflecting conditions in American society at the time., Minorities were often segregated or performed lower status roles within the military and often received less pay than Caucasians. Odo adeptly questioned the panelists on the nature and extent of discrimination in the Armed Forces and their reactions.
Colonel Archer, who was born in New York City and raised in Harlem, said he encountered his first open discrimination when he arrived in Washington, D.C. enroute from New York City to the Army Military Base, in Macon, Georgia. At the nationís capital, the African Americans were transferred involuntarily to the first coach behind the engine that was designated for African Americans. At the Army Infantry Base in Macon and later at Tuskegee after African Americans were permitted to serve in the U..S Army Air Corps, he found blacks and whites separated in theaters, commissaries, clubs, public transportation and public rest rooms.
Flying fascinated Colonel Archer and he was determined to succeed in the Army Air Corps. His father, however, who suffered discrimination by American military leaders in France in WW I, discouraged his son from joining the military. Despite his fatherís warnings about the obstacles and pitfalls, he enlisted. His greatest reward for all the sacrifices made by the Tuskegee airmen is that African American airmen now are treated as equals to all other ethnic groups.
African American pilots had to fight every inch of the way for recognition of their status, which came slowly and incrementally. They were told African Americans were intellectually inferior and did not have the qualifications to become pilots. While initially limited to tactical air combat, the Tuskegee Airmenís 332nd Fighter Group was later assigned to provide bomber escort duties, where the Tuskegee airmen excelled in not having lost a single bomber. They eventually were recognized as outstanding fighter pilots. These incidents motivated the Tuskegee airmen to prove that these inequities must be abolished. Italians, who witnessed the discrimination by Caucasian Americans against African American aviators, sympathized with them.
Colonel Kanaya, the only Asian in his primary school class in Clackamas, Oregon, felt he was different from his classmates, who made fun of him. However, he established good rapport with the neighborhood gang leaders who protected him. Kanaya enlisted in the US Army before Japan attacked Pearl Harbor. His parents were incarcerated in the Minidoka internment camp. Though he encountered no discrimination in the army, mainly because he was in a segregated Japanese American unit, he felt awkward when, as a 1st Sergeant, he journeyed to Minidoka to visit his parents and had to obtain permission from a Caucasian Private to enter the camp. When he served with the 442nd Regimental Combat Team, he felt they were being scrutinized by the Caucasian officers for their loyalty. He felt that their performance on the battlefield proved that point convincingly.
Colonel Harold Montgomery, Retired, who was born and raised in Washington, D.C. encountered discrimination in his youth and while serving with the separated 92nd Infantry Division. As a newspaper delivery boy in an all white apartment building he was fired from his job because a Caucasian woman complained she "did not want her paper delivered by a nigger". He was the only African American company commander of the 370th Combat Team, 92nd Division, and could feel the discrimination against them.
A veteran of three military campaigns, Montgomery was incensed when, after they had liberated a town, the entire area was declared "off limits to blacks". Colonel Montgomery recalled what he referred to as "the cherished experience of his Company H operating in tandem with the 442nd Regimental Combat Team in the Massa area, near the marble producing town of Carrara, Italy".
Sergeant Kuwayama was born in New York City in an area where Asians were an oddity. Groups of other students singled him out and made him laugh because his "eyes were funny." After graduating from Princeton University in 1940, he was inducted into the U.S. Army, a year before Japan attacked Pearl Harbor. The unit to which he was assigned was a National Guard Coast Artillery Unit which directed fire on the ships channel leading into New York City harbor. He was
assigned to a group in the tower which was to direct fire.
One day, the Commanding General made an inspection tour. He confronted Kuwayama and asked for his name. He said "Private Kuwayama, Sir", and the next day he was transferred out to Madison Barracks, New York, about 300 miles away, where he was assigned the job as requisition clerk for motor parts. Japan-U.S. relations had deteriorated because of the conflict in Manchuria and China. When Pearl Harbor was attacked, he was again transferred to Fort Ethan Allen, Vermont, and assigned to the hospital laundry room. Later, he was made a surgical technician, but given no training. Nevertheless, he was asked to train other soldiers in surgical technique (auto-claving, etc.) which he did by reading the U.S. Army manual. When the 442nd was activated, Kuwayama volunteered and served as a combat medic from its initial service in Italy and eastern France and back to Italy.

He found that even with an honorable discharge and receiving the Silver Star and Purple Heart, it was difficult to get a job as a civilian. He wrote to New York Stock Exchange firms, local employment agencies, etc. As he analyzed the situation, major companies were reluctant to expend time and money to train ethnic Asian American employees even though he was a college graduate and they then found it difficult to place an Asian American in a supervisory position or in a job where that person could be identified with the firms product or service. If there were 100 candidates for the job and one was Asian, no one would take the risk of hiring an Asian when there were 99 other candidates.

Kuwayama, however, believes that the publicity of the performance and loyalty of Japanese Americans and African Americans in WWII in the European and Asian Pacific theatre have contributed to the acceptance of all minorities as Americans in various job positions and professions. He also feels that the social conditions which underlie job considerations have been changing for the betterment of all Americans in a racially diversified U.S.
30