JAPANESE AMERICAN VETERANS ASSOCIATION

IMMEDIATE RELEASE: November 19, 2005

CONTACT: Terry Shima (301-987-6746; ttshima@worldnet.att.net)

PHOTO: Open JAVA website, www.javadc.org. Left side, pictures mounted on appropriate press release. Credit: Grant Hirabayashi, JAVA
- - - - - - - - - - - - - - - - - - - - - - - - - - - - - - - - - - - - - - - - - - - - - - - - - - - - - - - - - - - - - -

JAVA HOLDS 5TH ANNUAL VETERANS DAY PROGRAM. TANAMACHI RECEIVES JAVA COURAGE AWARD. MORITSUGU KEYNOTE SPEAKER

Washington, D.C. The Japanese American Veterans Association held its 5th Annual Veterans Day Program at the National Japanese American Memorial to Patriotism on November 11, 2005. About 100 members, families and friends, a number of them in military uniform, witnessed Ms. Sandra Tanamachi, a Texas school teacher, receive the JAVA Courage, Honor, Patriotism Award and listened to Rear Admiral Kenneth Moritsugu, Deputy Surgeon General of the United States, deliver the keynote address. The afternoon event had been preceded by a buffet lunch at a nearby restaurant.

Blessed by magnificent Fall sunshine, Master of Ceremony Calvin Ninomiya, Chair of the Program and former Chief Counsel of the Bureau of Public Debt, United States Treasury Department, opened the program stating "as Veterans Day is a national observance and holiday, and as JAVA's membership roll is increasingly reflecting its national status - we have members in 27 States, as well as the District of Columbia, some of you may well wonder why our organization is continuing to have its separate Veterans Day program. It seems to me, here at this special site, there are for all to see, two reasons for our own observance -- two powerful depictions of Japanese American patriotism.

"One reason, of course, is the 8l2 Japanese American veterans whose names are etched on the granite wall behind us – servicemen who were killed in battle in World War II fighting for their...our...country. Their gallantry occurred even while many of their families and friends were interned, held under armed scrutiny, in desolate barbed wire concentration camps during that war. The second reason finds resonance in our desire to remember the plight of those who suffered the infamy of that internment. That, too, is memorialized here. The internees suffered in comparative silence.

Rear Admiral Kenneth Moritsugu, Deputy Surgeon General of the
U.S., delivering keynote address at JAVA 5th Annual Veterans
Day Program and National Japanese American Memorial to Patriotism.

"The Japanese American Veterans Association is not a civil rights organization. It is a fraternal, patriotic, educational and historical organization. Basically, it is a veterans organization. But, given its genesis it is understandable that JAVA would have a particular interest in not only the protection of civil rights, but in condemning egregious manifestations of racism. It was, therefore, not unexpected that JAVA would sense the fundamental merit of the efforts that Sandra Tanamachi waged in the Beaumont, Texas, area to have the local government authority there change a road name that was insensitive and racist. You might say – 'that's not such a big deal!' But, it is...the symbolism of that effort has resonated across the land", Ninomiya concluded.

Boy Scout Grant Mukai of Troop 1115, Springfield, Virginia, led the Pledge of Allegiance. This was followed by the invocation delivered by Reverend Daniel P. Coughlin, Chaplain, U.S. House of Representatives, and the laying of the wreath at the Wall of Heroes by widows of veterans and next of kin of heroes who made the ultimate sacrifice. The sounding of the Memorial gong followed by taps by a military bugler added dignity to the event.

In presenting JAVA's Courage, Honor, Patriotism Award to Ms. Tanamachi, JAVA President Bert Mizusawa said that her 12 year struggle to remove a racial slur from three Texas street signs exemplifies the ideals of JAVA and the sacrifices of Japanese American men and women who served in the Armed Forces. Mizusawa said that her steadfast courage against determined opposition and her adherence to the finest attributes of patriotism are examples for others to follow. Twenty members of the Tanamachi family were present. Also recognized was Thomas Kuwahara, a Louisiana resident and veteran, who assisted Tanamachi in the street sign removal endeavor.

Ms. Tanamachi, in her remarks, said "Many people have asked me why I worked for over 12 years on changing the names of the roads in Texas. I tell them it is my small way of saying thank you to my mother and her two brothers who were forcibly placed in internment camps, for her uncle, a Texan and member of the 442nd Regimental Combat Team who was killed during the rescue of the trapped Texas battalion in eastern France, and for my son and his future generations."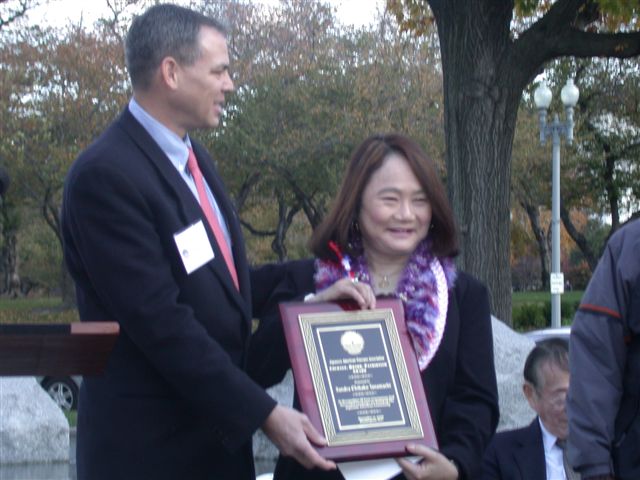 JAVA President Bert Mizusawa presents Ms. Sandra Tanamachi
with the JAVA's Courage, Honor, Patriotism Award

Tanamachi continued "the changing of the road signs in Texas was accomplished because of the help and support from so many wonderful and caring people. In 2001, Tom Kuwahara, from Lafayette, Louisiana, and I joined forces to work on the name change. I am so happy that Tom is here with us today, as he helped to revitalize the campaign. Later Tom and I were joined by three others to form the Committee to Change J-Road. Our committee was supported by civil rights and veterans organizations and family members who testified at the hearing and by a broad base of supporters in Hawaii, overseas and US mainland who wrote letters to the commissioners. This combined effort is what made the commissioners finally decide to vote for the name change. I wish to thank all my supporters."

Admiral Moritsugu, whose father was a veteran of the Military Intelligence Service who served in the Pacific Islands and Okinawa, cited three themes in his keynote address: to reflect on the contributions of veterans, to learn from their legacy, and to apply the lessons to meet future challenges. Dr. Moritsugu said that Niseis, "who identified America as their own, stood up to serve, when their own government did not trust them, in the 442nd Regimental Combat Team, in the 100th Infantry Battalion, and in the Military Intelligence Service in Europe and in the Pacific. Two members of Moritsugu's extended family won the Medal of Honor for gallantry over and beyond the call of duty for combat in Europe.

Moritsugu explained how warfare has changed from uniformed warriors representing adversary nations to one where "the enemy is ethereal, where there is no defined hostile nation, where there is no defined enemy seat of leadership and power".

Moritsugu contrasted the changes of attitude in the armed forces over the years. "In WW II, our fathers and grandfathers were not allowed to serve, except in specified, segregated units: mostly in the infantry, a few in the Air Corps (although not in the cockpits), and a sole member in the Navy. During the Vietnam War, Japanese Americans served in all branches of the armed forces, on bridges of Naval vessels, and in cockpits as pilots of fighters and bombers.

"Now opportunities for selfless service abound: general and flag officers commanding brigades and divisions; and public servants holding ranking positions in the executive, legislative and judicial branches of government. And I note particularly, Brigadier General-select Bert Mizusawa, another veteran in our midst.

"Those of us who serve today stand on the shoulders of those generations who preceded us, who provided us the opportunities to serve. … I envy the generations to come – with the opportunities they will have in our great nation -- to flourish themselves, and to help our country flourish," Admiral Moritsugu concluded. 30