JAPANESE AMERICAN VETERANS ASSOCIATION
1749 Old Meadow Road, Suite 500, McLean, VA 22102 (Bob Nakamoto, President)
IMMEDIATE RELEASE:

November 19, 2009

Vol. IV

No. 35
CONTACT: Terry Shima 301-987-6746; ttshima@comcast.net
PHOTO: Photo accompanies this press release
- - - - - - - - - - - - - - - - - - - - - - - - - - - - - - - - -
JAVA SCORES BIG WITH HISTORY (™): JIMMIE KANAYA FEATURES IN WWII IN HD AND TERRY SHIMA IN NATIONAL TEACH-IN ON VETERANS HISTORY
Japanese American Veterans Association
Washington, DC. HISTORY (™), formerly known as History Channel, featured members of the Japanese American Veterans Association (JAVA) in two of its important events recently. This past week, Colonel Jimmie Kanaya, US Army, Ret., has told the 442nd story in HISTORY's epic documentary on World War II. Earlier, on October 21, 2009, Terry Shima, 442nd veteran and Executive Director of JAVA, was a panelist on the National Teach-In on Veterans History live broadcast to schools from the Library of Congress, in Washington, DC.
HISTORY (™) has premiered WWII in HD, a 10-hour television series, this week. The people throughout America were given the opportunity to see the story of the war as they have never before ― viewed through the eyes of 12 Americans who fought in or contributed to the war effort. Their stories were told through rare, original color archival footage, never before seen by most Americans. The footage was located during an exhaustive, two-year worldwide search, then preserved and restored, and converted to HD for unprecedented clarity. Colonel Kanaya, a 442nd medic, who was commissioned by General Mark Clark in Italy, is featured in this extensive documentary.
Also, HISTORY (™) and the Library of Congress (LOC) held a National Teach-In on Veterans History on October 21, 2009, at the Coolidge Auditorium, Jefferson Building, Library of Congress. A webcast with several high schools in the audience and approximately 200,000 students from registered schools nationwide viewed the presentation live on line.
The panelists for the Teach-In were Robert Patrick, Director of the Library of Congress Veterans History Project (LOC VHP); Terry Shima, Dr. Darlene Iskra, the first woman to command a US Navy ship; and Jonathan Bickel, a teacher of gifted students at Eastern Lebanon County High School in Myerstown, PA, and whose students have actively participated in the LOC VHP. Students asked questions via email, video, and from the enthusiastic live audience. There was excellent participation from members of Congress.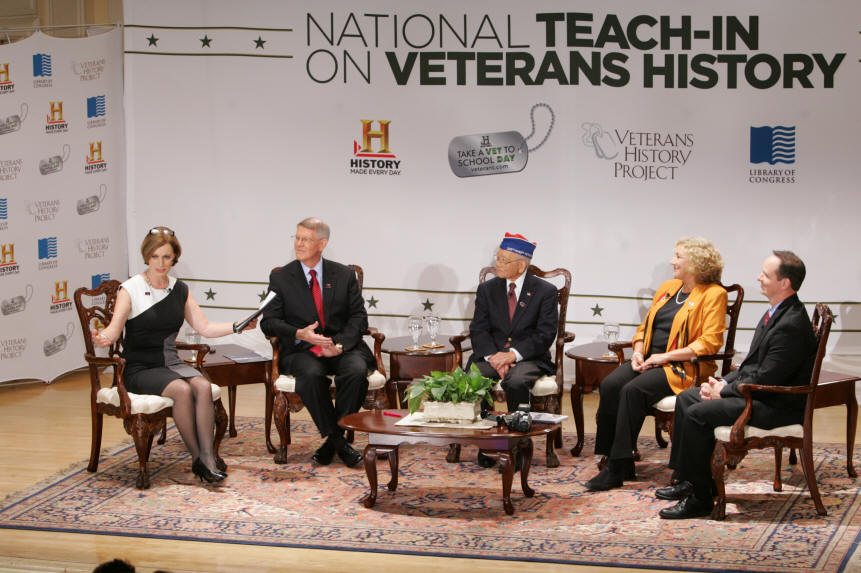 Dr. Libby O'Connell, Moderator; COL Robert Patrick, USA (Ret); Terry Shima; Dr Darlene Iskra; and Jonathan Bickel. Photo from HISTORY
(Cara Tocci)
The Teach-in was the largest educational event in the history of the LOC and HISTORY was instrumental in the conception, development and production. Dr. James. H. Billington, Librarian of Congress, who provided the welcoming remarks, said the OHP has collected 67 thousand oral histories and will soon enter its 10th year of operation. Congressman Ron Kind of Wisconsin, author of legislation which created the OHP, provided the genesis of the OHP and described its value to historians and future generations. Positive reviews have been received from educators throughout the country. Libby H. O'Connell, PhD, Chief Historian and Senior Vice President for Corporate Outreach, of HISTORY (™) was the moderator.
The LOC VHP preserves, and makes accessible to historians and researchers the personal accounts of American war veterans. Future generations may hear directly from veterans and better understand the realities of war. VHP relies on nation-wide volunteer interviewers - both organizations and individuals - to record the stories of veterans. By collecting a veteran's first person account, all participants not only learn about history from a unique perspective but also engage in the creation of primary source materials. To learn how to record stories according to VHP's guidelines, visit www.loc.gov/vets, click on "How to Participate," and follow the "Five Easy Steps."
Students from Frederick Douglass High School in Upper Marlboro, MD, Old Mill High School in Glen Burnie, MD, Spotsylvania High School in Spotsylvania, VA, Loudon Valley High School in Loudon, VA, East Lebanon County High School in Myerstown, PA and Musselman High School in Inwood, WV were in the audience at the LOC. Among the schools pre-taping questions for the Teach-in were Stacy Junior & Senior High School, located on Lackland Air Force Base in San Antonio, TX; Preparatory Charter High School in Philadelphia, PA; and Cypress Bay High School in Weston, FL. [The above report was adapted from HISTORY press release provided by Dr. Libby O'Connell]. 30