JAPANESE AMERICAN VETERANS ASSOCIATION
(1749 Old Meadow Road, Suite 500, McLean, VA 22102 (Bob Nakamoto, President)
IMMEDIATE RELEASE:

October 30, 2010

Vol. V

No. 28
CONTACT: Lt. Janelle Kuroda, 808-990-0099; janellekuoda@gmail.com
Terry Shima 301-987-6746; ttshima@comcast.net
PHOTO: Photo accompanies this press release.
- - - - - - - - - - - - - - - - - - - - - - - - - - - - - - - - -
Japanese American Officer Promoted
To One of the U.S. Navy's Highest Ranks
Rear Adm. David M. Boone Adds Chapter To Distinguished History
Of Japanese Americans Serving in U.S. Military
By Lt. Janelle Kuroda, JAG Corps, U.S. Navy
Another significant chapter in the long and distinguished history of Japanese Americans serving in the U.S. Armed Forces was added with the recent promotion of Navy officer David M. Boone. With his promotion to the rank of rear admiral, he becomes the 43rd military officer of Japanese descent and the 100th military officer of Asian and Pacific Islander descent to achieve the rank of admiral or general. A ceremony to mark the occasion took place on Sept. 9, 2010 at Norfolk Naval Station in Norfolk, Va.
Rear Adm. Boone currently serves as director of the Shore Readiness Division on the Chief of Naval Operations' staff and vice commander of Navy Installations in Washington, D.C. He is responsible for managing the policy and resources for 74 naval installations worldwide, ensuring that the Fleet, Fighters and their Families are supported from the Shore. A Seabee Combat Warfare officer and a Navy diver, Boone has served in a variety of sea and shore assignments.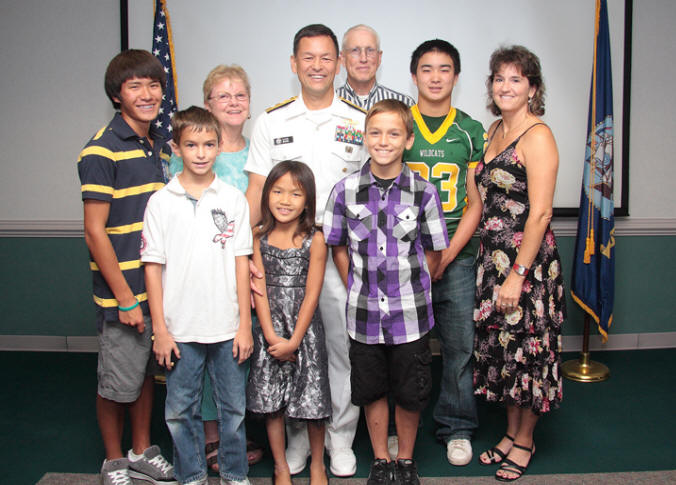 Rear Admiral David M. Boone and his family at his promotion ceremony at Norfolk, Virginia.
U.S. Navy photo by John Land.
Having spent the early part of his life in both Taiwan and Japan, Boone moved to the U.S. as a young man, landing in the State of Oregon. As a high school student, serving in the U.S. Navy was far from his thoughts. He began working in construction while in high school. Upon graduation, he enrolled in the University of Oregon, but two years later, he was back working as a laborer on a farm, and later in construction, this time in California.
"I was an outdoors person. I liked doing construction," said Boone. "I had a great deal of admiration for skilled craftsman. I always found that working with your hands was a very honorable position." While working on a project one grueling day, he was inspired to do more. "I was on a job digging a trench with two other guys, the soil was full of rocks in 95 degree heat, when a car appeared. Three guys came out, wearing three-piece suits and construction hats. They walked around for a few minutes, and went back into their air conditioned cars and left. I asked, 'who are those guys?' When I found out they were engineers and found out what civil engineers did, I knew I wanted to be an engineer."
Boone returned to school, this time at California Polytechnic State University at San Luis Obispo, where he studied Civil Engineering. He credits both his appreciation for skilled laborers and his college education for eventually paying dividends as he advanced through the ranks of the Navy.
According to Boone, there was no military background in his family and nothing pointing him in the direction of the Navy. He does credit a friend, however, who encouraged him to listen to a recruitment pitch by a Civil Engineer Corps officer in 1982.
"I was in school, I was thinking I was going to go commercial construction and engineering, and I literally made a matrix with the job attributes, and the Navy always came on top, but I didn't believe the recruiters, so I went to Long Beach Naval Base and met with the public works officer who showed me around. I was very impressed," said Boone.
Joining the Navy was a "great decision," Boone added. "As I moved through my career, my initial experience as a construction laborer and working with my hands helped me as I worked with Seabees and wage grade employees … with people who do real work in my opinion. I always admired a craftsman's ability to make something out of nothing. They could do things that I could never do, and that was a real important part of my learning that paid off in ways I could never anticipate. Navy Civil Engineer Corps officers are always trying to make something better for somebody; whether it is for our Sailors and families at a base or for the local population in a war torn country like Iraq and Afghanistan or after a disaster in Haiti – I can think of no more honorable profession. I am extremely proud of our Navy engineering community."
Boone has garnered a great level of respect from his peers. "Rear Admiral Boone ascends to this rank with 27 years of service as an officer and leader of the highest caliber," said Vice Adm. Harry B. Harris, Jr., Commander, U.S. Sixth Fleet, a Japanese American with headquarters in Naples, Italy. "He is recognized as one of the foremost military civil engineers and a man who took the hard jobs that required a person of action. His promotion to Rear Admiral comes as no surprise as he is a proven warrior with an incredible and exciting future for our Navy and our country."
"In the Seabee community we have only five flag officers, so to be one of them is a huge honor, Boone said of his promotion. When you hit a big milestone, you tend to be retrospective of your career, you think back 27 years and ask, how did this all happen? It's a couple of things: there's a bit of luck and fate. I believe you make your own luck based on what you do with the opportunities presented to you. The other thing that I strongly believe in is that if you don't worry about who gets the credit, your organization can accomplish a tremendous amount – all while giving credit to those that are in the trenches every day. And lastly, as a leader, our most valuable asset are the people we lead – you have to take care of your people."
Boone and his wife, Meg, have five children, including three who were adopted from Japan, China and Korea. He credits his family with supporting him throughout his naval career and tries to instill the values he grew up with into his own children. 30