JAPANESE AMERICAN VETERANS ASSOCIATION
1666 K Street,NW, Suite 500, Washington,D.C. 20006, c/o Gerald Yamada, Esq.
IMMEDIATE RELEASE: Vol. II
September 25, 2007 No. 42
CONTACT: Terry Shima (301-987-6746; ttshima@worldnet.att.net
FOR PHOTOS: Please go to JAVA Website, www.javadc.org, scroll to Press Release. Pictures embedded in below titled article.
- - - - - - - - - - - - - - - - - - - - - - - - - - - - - - - - - - - - - - - - - - - - - - - - - - - - - - - -
NIKKEI SERVED IN KOREAN AND VIETNAM WARS AS PILOTS AND NAVIGATORS. DURING WW II NONE SERVED IN COCKPITS, ONLY THREE SERVED AS GUNNERS.
Japanese American Veterans Association
Niceville, Florida. Col Robert (Bob) S. Kan, USAF (Ret), a native of Honolulu, Hawaii, who is residing in Niceville, Florida, has recently initiated a survey of Japanese Americans (JA) who served as combat pilots and navigators during the Korean and Vietnam Wars. The objective of the survey is to assess JA advancement and competitiveness in the aviation branches of the armed forces since WW II. Kan was one of several JAs who flew into North Vietnam early on (1965-1966), with 168 day and night fighter combat missions in the F4C Phantom jet fighter-bomber.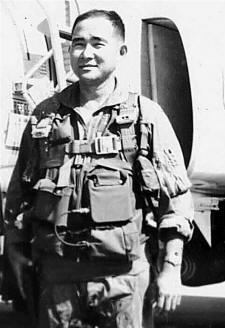 Col Bob Kan in combat gear, 1965
During WW II, JAs were not allowed to serve in cockpits of military aircraft as pilots and navigators as their loyalty and trust were questioned. Only three flew in military aircraft as gunners: John Matsumoto, Ben Kuroki and Herbert Ginoza. Kuroki served 58 combat missions in Europe and in Asia, including Japan, having "had to fight like hell to remain in the US Army Air Corps." Virgil Westdale was in pilot training in Indiana before Pearl Harbor was attacked and joined the Air Corps reserve as a pilot. Suspecting his ethnicity would hinder his longevity, he changed his name from Nishimura to Westdale (nishi=west; mura=dale). However, while his fellow reservists were transferred to flying assignments, Westdale was instead transferred to the infantry as a Private and assigned to the 442nd Regimental Combat Team at Camp Shelby, MI.
The WW II contributions by the Nisei clearly settled the question of loyalty in the armed forces, and paved the way for future generations of Japanese Americans to take up higher levels of authority and leadership. As the Armed Forces gradually became desegregated after WW II, JAs were able to sign up for front line aircrew training unhindered, unnoticed as an ethnic group, without apparent prejudice. Some WW II veterans were surprised to discover that many JAs after the Korean War qualified as combat aircrews for aircraft carrying nuclear weapons.

Col Bob Kan flying over Mt Fuji, Japan, 1972

Col Kan said "we recently obtained names of JAs who distinguished themselves flying combat in Korea: a gunner-observer in the B-26 (twin-engine medium bomber) and three or four F-86 (Sabrejet) fighter pilots. Thus far, we have identified 40 or so JAs who fought in the Vietnam War as US Navy and Air Force pilots and navigators in fighters and bombers, and as US Army helicopter gunship pilots. Five JAs were shot down and imprisoned as POWs in the Hanoi "Hilton."
"Although incomplete and fragmented, the information already gathered strongly substantiates the premise, fulfilling the aspirations of WW II vets, that the JAs one day would be perceived as loyal, competitive and productive citizens. Many have served as unit commanders, and have held key staff USAF positions", Kan said. Following the Vietnam War, JAs were promoted to flag rank. Curently, JAs Maj Gen David E. Clary, USAF, and RADM Harry B. Harris, Jr, USN, both combat pilots, are on active duty.
Since World War II, official Defense Department personnel records do not list "Japanese-American" personnel as a separate category. Thus it is difficult to gather data related to this particular ethnic background except through comrades and friends, by word of mouth, and periodicals and reference books.
JAVA is seeking information regarding any JA Korean and Vietnam combat aircrew members. Please e-mail or call Bob Kan at juvat72@cox.net or 800-883-8185 (toll free). Details such as rank, dates of service, aircrew position, decorations, type of aircraft flown, combat missions, when and where, career accomplishments, etc., would be appreciated.
Grant Hirabayashi, a Nisei who was inducted into the Ranger Hall of Fame for heroism during WW II in Burma with the Merrill's Marauders, the predecessor of the US Army Rangers, said: "I was among 26 JAs in my Army Air Corps unit prior to Pearl Harbor attack. Shortly after the attack, we were all terribly disappointed to be reassigned to the infantry because of our ethnicity. I am pleased that our successors in the armed forces are accomplishing the goals the WW II generation has set. Our successors are an intelligent, dedicated and resourceful group of men and women and I, for one, am very proud of them." 30