JAPANESE AMERICAN VETERANS ASSOCIATION
1749 Old Meadow Road, Suite 500, McLean, VA 22102 (Bob Nakamoto, President)
IMMEDIATE RELEASE:

August 1, 2009

Vol. IV

No. 27
CONTACT: Terry Shima 301-987-6746; ttshima@comcast.net
Ellen Sawamura, 415-668-2420; eswamuraphd@yahoo.com
PHOTO: Photo accompanies this press release
-- - - - - - - - - - -- - - - - - - - - - - - - - - - - -
LAWSON SAKAI LEADS NATIONAL DELEGATION TO FRANCE TO COMMEMORATE 65TH ANNIVERSARY OF LIBERATION OF VOSGES REGION. SIX 442ND VETERANS ACCORDED HEROES WELCOME BY GRATEFUL FRENCH PEOPLE.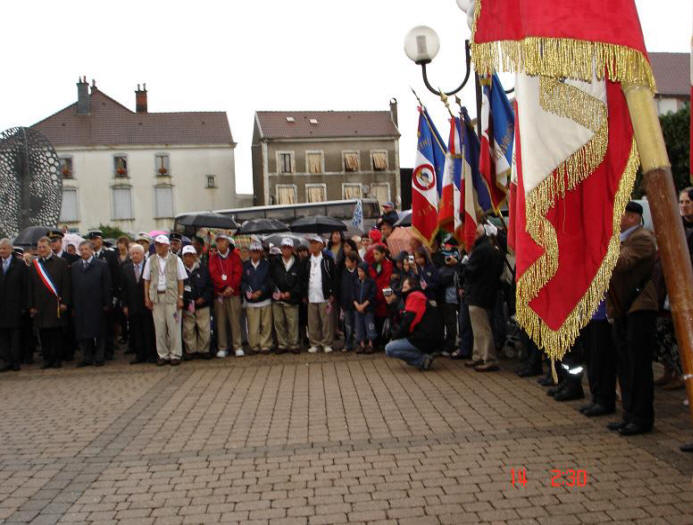 Veterans and local residents at Bastille Day ceremony, Place Stanislas, Bruyeres. Photo: Ellen Sawamura, PhD

442nd Veterans at Rue de 442 sign, Bruyeres: (left to right) Art Iwasaki, George Kanatani, Sam Sakamoto, Nelson Akagi,
Fumio "Steve" Shimizu, Lawson Sakai. Photo: Ellen Sawamura, PhD
By Ellen Sawamura, PhD
Bruyeres, France. On Saturday, July 11, 2009, six veterans of the famous 100th/442nd Regimental Combat Team arrived at Charles de Gaulle Airport in Paris, France to commemorate the 65th Anniversary of the Liberation of Bruyeres and Biffontaine and the Rescue of the "Lost Battalion". A large delegation of friends, family, documentary film makers, and news crew, led by Lawson Sakai of E Company, accompanied these veterans into a double decker bus to begin the long ride to Epinal, a small village nestled in the Vosges Mountains near the eastern border of France.
Nelson Akagi, age 86, of Salt Lake City, Utah, a veteran of the 522nd Field Artillery, there with his nephew Mark and Mark's wife Susan, recalled tripping a "booby trap" just below the "Lost Battalion" mountain. He survived the blast and participated in liberating a "sub camp" of Dachau with Dr. Susumu Ito, another 522nd veteran. Dr. Ito, of Wellesley, Massachusetts, a retired Emeritus Professor at Harvard Medical School, fell ill days before, remained hospitalized, and was unable to join the Anniversary tour. Nelson learned early about struggling and survival as one of seven children born into a farming family headed by strong parents who immigrated from Okayama prefecture in 1914.
Art Iwasaki, age 89, of Portland, Oregon, a veteran of I Company, there with his son Robert, daughter Stephanie, son-in-law Randolph, and granddaughter Leigh Anne, spoke quietly about being "wounded in the arm and shoulder" on October, 27, 1944 during the rescue of the "Lost Battalion". After being placed on a jeep with two other wounded soldiers, the jeep "hit a road mine and blew up". Although seriously injured himself, Art dragged one of them to safety and received a Bronze Star for saving his life. In April, 1945, he was "hit in the back by shrapnel" near Carrara, Italy after the 442nd broke through the Gothic Line, forcing the Germans to retreat. He never shared these stories with his family. One of eight children, Art remembered his own father telling him "don't bring shame on the family" as he left to serve his country; his father immigrated from the Kyoto region in 1898.
George Kanatani, age 91, of Redlands, California, a veteran of E Company, there with his daughter Alison, recounted being drafted in 1942, working as a company clerk, then transferring into the 442nd as a "replacement" in early 1944. Serving on the "flank" during his first "battle" in Bruyeres, he was "hit in the back" by shrapnel. George spoke proudly about George "Joe" Sakato, also of E Company, receiving a Medal of Honor for his extraordinary action after his best friend Saburo Tanamachi was killed by the enemy. Following a three week hospital stay, he joined his company in Nice, and sadly remembered a fellow soldier being killed after tripping a mine. Later, he spent "a whole night climbing Mt. Folgorito" where Senator Dan Inouye (E Company) was seriously wounded. George was taught that "service to our country is our duty" from hard working parents who immigrated from Yamaguchi prefecture in 1915.
Sam Sakamoto, age 84, of Soquel, California, a veteran of I Company, spoke about
"mopping up" and gathering German POWs. Following the delegation's emotional visit to the Epinal American Cemetery for a formal memorial service, and paying respects at thirteen gravesites of fallen comrades and one at the Wall of the Missing, he lamented that "one has to see the cemetery of any army or navy to really appreciate what these fellows did". At one gravesite, he offered an American flag, origami paper cranes and saluted. Sam believed Nisei soldiers carried strong cultural and family values with them to the battlefield. His own parents who immigrated from Kumamoto prefecture by way of South America, taught him these values.
Fumio "Steve" Shimizu, age 89, of Laguna Woods, California, a veteran of F Company, there with is wife "Dede", son Craig and granddaughter Ellen, grew up in "Honokaa, the Big Island, Hawaii". He volunteered in March, 1943 and soon found himself at Camp Shelby, Mississippi. He saw action first near Rome in Civitavecchia, Italy, then in Florence and finally participated in liberating Bruyeres and Biffontaine where he was severely wounded in the arm from shrapnel. Following extensive rehabilitation in Philadelphia, he "had the benefit of improving (our) lifestyle, taking advantage of the G.I. Bill of Rights". He shook his head in amazement when thinking about his parents who immigrated from Fukuoka prefecture, labored on a sugar cane plantation and raised nine successful children.
Lawson Sakai, age 85, of Morgan Hill, California, a veteran of E Company, there with his daughters Joanne and Janet, grandson Kelly, and six other members of his family, talked about trying to enlist in the Navy with three Caucasian schoolmates on December 8, 1941. Even though he was an American born son of parents who immigrated from Kumamoto prefecture, Japan, they classified him an "enemy alien". Lawson joined the 442nd Regimental Combat Team in 1943 following the formation of this all Japanese American Army combat unit; other young Nisei men joined, many from "relocation centers" where their families remained "incarcerated". Lawson fought in all major 442nd battles including Bruyeres, the Rescue of the Lost Battalion, the breaking of the Gothic Line in Italy and received a Bronze Star and four Purple Hearts. Loyal to the 100th/442nd RCT, he actively participated in veteran activities since his discharge and currently serves as President of Friends and Family of Nisei Veterans, the non-profit veterans' organization that sponsored the 65th Anniversary tour. Through the years he traveled to the Vosges about nine times for previous anniversaries; he realized this "final" tour was the most difficult because for him, it was the "final farewell, the time to say our final farewell" to those who did not return home.
The delegation also included grateful children and family members of soldiers from the Texas 36th Division who were miraculously saved by their Nisei rescuers. The Hardwick sisters' "friendship with heroes" began in early 2007 when they left a "Note of Heartfelt Thanks" at the National Japanese American Memorial in Washington, D.C. for the rescue of their father, Sgt. Bill Hardwick. John and Robert Bryan Jr. expressed gratitude for the rescue of their father, Robert, Sr. who is pictured along side an unshaven but happy Lt. Martin Higgins, Commanding Officer of the trapped battalion, in the famous post "rescue" photo.
Glenn Hajiro, a teacher from Hawaii and son of Medal of Honor recipient Private Barney F. Hajiro, walked in the same forests and on the same mountains his father defended 65 years ago. Margaret Miyasaki, widow of Dr. Robert Miyasaki (442nd medic) from Hawaii, represented friends and families at the various ceremonies. Children and family members of Japanese American soldiers who served in the Military Intelligence Service during World War II and other wars and conflicts were also present.
During the days to follow, the delegation attended memorials at the Epinal American Cemetery, the 442nd Monument in the Helladraye Forest "via Rue de 442" and also viewed the bronze Monument to Friendship and Peace, sculpted by the late Shinkichi Tajiri of M Company, rode on World War II restored jeeps and trucks to the memorial at the 36th Division Monument - BORNE N6 (site of the Lost Battalion rescue), and solemn ceremonies at Fremifontaine, Biffontaine, and other monuments in the region honoring Divisions who bravely liberated the Vosges. They also viewed significant battlefields where the 100th/442nd valiantly fought and suffered tremendous losses, losses that will resonate forever.
A special Mass of Remembrance was held in Bruyeres before marching in the Bastille Day Parade and honoring French resistors and American liberators with color guards, bands and awards at the Place Stanislas. Throughout the tour, friendships were forged with the French to last generations. World War II military history buffs, Herve Claudon and Gerome Villain and Etienne Pourcher, Consul-General of the Vosges Region coordinated with hundreds of local residents and dignitaries and Lawson Sakai to create a memorable and emotional experience.
Throughout the tour, many French and Americans officially and personally expressed heartfelt commitments to carry this story and the "Go For Broke" message to future generations. A film crew from Los Angeles documented the tour and American Forces Network Europe interviewed Lawson and Joanne Sakai.* Since those dark days of war, each new generation benefited from the sacrifices of the Nisei soldiers. When President Truman welcomed the 442nd RCT return home at the south lawn of the White House on July 15, 1946 and presented the Presidential Distinguished Unit Citation, he stood before them in the rain and said: "I can't tell you how much I appreciate the opportunity to tell you what you have done for this country. You fought not only the enemy, you fought prejudice and you won. You have made the Constitution stand for what it really means: the welfare of all the people, all the time." He also urged them to "Keep up the fight!" 30