JAPANESE AMERICAN VETERANS ASSOCIATION
1666 K Street,NW, Suite 500, Washington,D.C. 20006, c/o Gerald Yamada, Esq.
IMMEDIATE RELEASE: Vol. II
June 28, 2007 No. 26
CONTACT: Terry Shima (301-987-6746; ttshima@worldnet.att.net
FOR PHOTO: Go to JAVA website, www.javadc.org, see press release. Picture embedded in appropriate release.
- - - - - - - - - - - - - - - - - - - - - - - - - - - - - - - - - - - - - - - - - - - - - - - - - - - - - - - - -
ONE YEAR ANNIVERSARY OF PVT MASATO "CURLY" NAKAE FREEDOM SQUARE IN CAMP DARBY, ITALY. MONUMENT IS ALSO TESTAMENT OF GEORGE "JOJI" WATANABE'S PERPETUATION OF NISEI LEGACY
Tombolo, Italy. June 21, 2007 has marked the one year anniversary of the dedication of
the US Army Private Masato "Curly" Nakae Freedom Square at Camp Darby, Livorno, Italy. The monument was erected to the memory of Private Nakae, Company A, 100th Battalion, 442nd Regimental Combat Team for his heroic actions in combat on August 19, 1944 against the German forces in the Pisa area. He was awarded the Distinguished Service Cross for extraordinary heroism. In 2000 the DSC was reviewed by a Presidential panel and upgraded to the Medal of Honor.
Nakae was born in Kauai, entered military service in early 1942 and joined the 100th Infantry Battalion when it was activated in June 1942. The 100th Battalion was the first all Japanese American combat unit formed. It landed at Salerno, Italy on September 22, 1943 and engaged in major battles, including Alife, Cassino and Anzio, prior to the arrival of the 442nd RCT. When it was integrated into the 442nd RCT in June 1944 at Civitavecchia, Italy, it retained its original unit designation, 100th Infantry Battalion, instead of being redesignated as the 1st Battalion. The 100th distinguished itself in eight campaigns in Italy and France. Nakae's DSC citation states:
"When his sub-machine gun was damaged by a shell fragment during a fierce attack by a superior enemy force, Private Nakae quickly picked up his wounded comrade's M-1 rifle and fired rifle grenades at the steadily advancing enemy. As the hostile force continued to close in on his position, Private Nakae threw six fragmentation grenades into their midst and forced them to withdraw.
"During a concentrated mortar barrage which preceded the next assault by the enemy force, Pvt Nakae was seriously wounded by a mortar shell fragment. Despite his injury, however, he refused to surrender his position and continued firing at the advancing enemy. By inflicting heavy casualties on the enemy force he finally succeeded in breaking up the attack and caused the enemy to withdraw. His extraordinary heroism in the face of a greatly superior force in is keeping with the highest traditions of the US Army."
The Color Guard at the dedication ceremony was composed of soldiers from the present day 100th Infantry Battalion, 442nd Infantry, garrisoned in Hawaii. Attending the ceremony were Nakae's daughter, Mrs. Anne Nakae Kuroda, and her husband Randy, and their children, Stephanie and Kenneth. The Kurodas come from an illustrious military family. While Anne's father was a Medal of Honor recipient, Randy's uncle, Robert, was also a Medal of Honor recipient and his father (Ronald) was a Distinguished Service Cross (DSC) awardee.. Both Ronald and Robert are brothers of Colonel Joseph "Jumbo Joe" Kuroda, USAR retired, WWII veteran, educator, former Hawaii State Senator and the Hawaii Coordinator of the Nakae ceremony.
At the ceremony, Randy conveyed a message from the 100th Infantry Battalion veterans and Jumbo Joe delivered the message from the 442nd Veterans Hawaii. In her remarks, Mrs. Kuroda said "My father never saw himself as a hero. He was only a soldier doing what he had to do. He once told me he believed he was just lucky to have returned when many other boys never got the chance to come back home. Those he considered the real heroes. This honor you bestow on my father must be shared with the others who fought with him and those who suffered from the war. That is the only way he would have accepted this great recognition."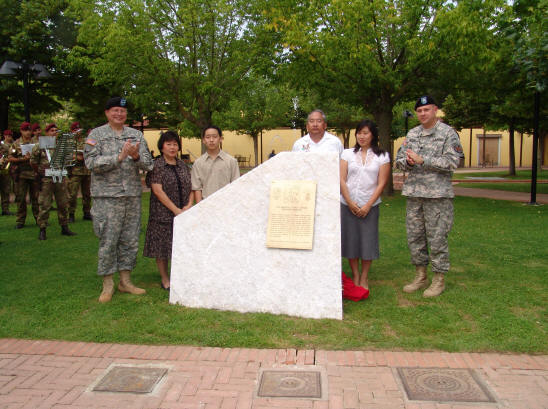 MG David Zabecki, Ann Nakae Kuroda, Kenneth Kuroda,
Randall Kuroda, Stephanie Kuroda, LTC Stephen Sicenski
at Pvt Curly Nakae Square on inaugural day, June 21, 2006.
RADM Kenneth P. Moritsugu, United States Public Health Service, Acting Surgeon General of the United States, nephew of Nakae, and son of a WW II Military Intelligence Service operative, said: "Uncle Curly was always humble. When he talked about his service, he would only say, 'I was just doing my job.' And yet, I was so proud to be present at the White House in 2000 when he, along with his comrades in arms, was recognized with the Medal of Honor. The legacy of his service provides a model for Americans of Japanese descent and a compass for the future for all Americans."
The Square also honored the late George "Joji" Watanabe, a civilian employee at Camp Darby, who persuaded the US Army to recognize the Nisei for their role in the liberation of the Pisa-Leghorn area. A historian who spent many hours visiting the combat sites to recreate the battles fought by the 100th Bn and 442nd RCT and who developed cordial relations with Italian officials and people, Watanabe served as the Nisei unofficial "ambassador of goodwill" to Italy. His death on September 18, 2005 was a deep loss to the Japanese American community and to their Italian friends. George's widow, Grasiella (Gracie), was an honored guest at the ceremony. Jumbo Joe recalled Watanabe saying that he wanted the "Nakae memorial built at Camp Darby so everyone, especially the younger Japanese Americans visiting the area will have something of value to remember in addition to the Leaning Tower of Pisa."
The Nisei Veterans Committee of Seattle, Washington, has a plaque hanging in its club house which includes the following inscription: "Watanabe will always be remembered as a compassionate, unselfish and dedicated 'Uncommon Patriot' who has led many Nisei veterans, family groups and individuals, medal of honor recipients and army units on tours of the 100th-442nd battlefields in Italy after WW II." Watanabe retired after 20 years in the U.S. Army Signal Corps and went on to serve 30 more years in Europe as a civilian employed on U.S. Army installations.
Established on November 15, 1952, Camp Darby has had various functional name changes but it always has been referred to as Camp Darby. It is currently called US Garrison Livorno (USAG Livorno) and it provides support to various US military elements in the region. USAG Livorno is named in honor of BG William O. Darby, Assistant commander of the 10th Mountain Division, who was killed on April 30, 1945 in the vicinity of Trento, Italy. 30