JAPANESE AMERICAN VETERANS ASSOCIATION
(1749 Old Meadow Road, McLean, VA 22102)
IMMEDIATE RELEASE:

January 4, 2011

Vol. V

No. 35
CONTACT: Terry Shima 301-987-6746; ttshima@comcast.net
PHOTO: Attached to this press release
- - - - - - - - - - - - - - - - - - - - - - - - - - - - - - - - -
HAWAII LIEUTENANT COLONEL HOLDS HIS RETIREMENT CEREMONY AT NISEI MEMORIAL IN NATION'S CAPITAL. SPECIAL FORCES OFFICER SPENT TWO TOURS IN IRAQ
Japanese American Veterans Association
Washington, DC . Lieutenant Colonel Mark T. Nakagawa retired from the US Army on November 23, 2010 in a dignified and intimate retirement ceremony held at the National Japanese American Memorial to Patriotism, located one block from the US Capitol Building in the nation's capitol. As the leaves of the cherry trees gently fluttered on the Memorial on a balmy Fall afternoon, LTC Nakagawa bid his farewell to the US Army after 21 years of exciting assignments.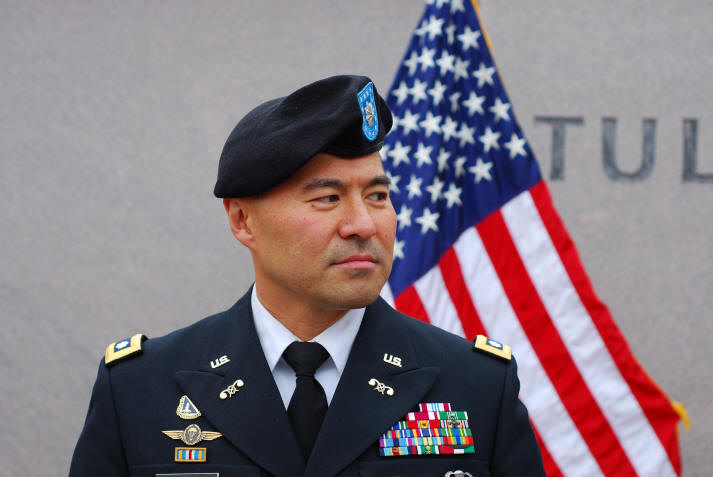 LTC Mark Nakagawa, USA at his retirement ceremony at the National Japanese American Memorial to Patriotism in Washington, DC
Born in Okinawa, Japan and raised in Hawaii (Iolani High School, 1985), LTC Nakagawa received his Army commission through the University of Southern California (USC) ROTC program. He was accepted in the elite Special Forces (Green Beret) unit and served with them in Desert Shield/Storm (the First Gulf War and Operation Provide Comfort (relief to Kurdish refugees). On his second tour to Iraq in 2004 with the Iraq Survey Group, LTC Nakagawa led missions to search for weapons of mass destruction.
LTC Nakagawa's career reached its apex during 2006-09, when he was appointed to serve at the White House Military Office as Chemical, Biological, Radiological, and Nuclear (CBRN) Program Manager. The mission of the Office is to provide essential service to the President and help to maintain presidential security.
LTC Nakagawa earned two masters degrees in National Security from the Naval Post Graduate School, Monterey, California, and the Command and General Staff College at Fort Leavenworth, Kansas. He also completed the Chinese-Mandarin language course at the Defense Language School, Presidio of Monterey, California.
His awards and decorations include the Ranger Tab, Parachutist Badge, and other medals to recognize his achievements. In his farewell remarks LTC Nakagawa said "When I received my commission as a 2nd Lieutenant, my intent was to serve for four years and pursue a civilian career. However, during my first tour the dedication and professionalism of my fellow officers and non commissioned offices impressed me deeply and I found my calling as a Soldier".
Colonel Robert M. Waltemeyer, USA, LTC Nakagawa's first commander, who returned from Afghanistan to be the principal speaker at the ceremony told LTC Nakagawa "the lasting legacy you leave behind is the investment you made in the lives of Soldiers and it will live on in generations of future non-commissioned officers, officers and Soldiers, who have been fortunate enough to have called you FRIEND".
LTC Nakagawa and his wife Carol will live in Springfield, Virginia. Mrs. Fusako Nakagawa, his mother, lives in Pearl City, Hawaii, and Nadine Ninomiya, his sister and her family live in South Pasadena, California.