Twelve Year Quest to Change the Name of "JAP Road"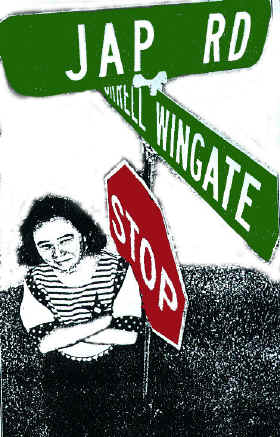 Twelve years ago, Sandra Tanamachi, a teacher in Beaumont, Texas, began a quest to change the name of "JAP Road", a thoroughfare in the small town of Fannett, Texas, near Beaumont, where her father and his siblings grew up. She understood the sting of this racial slur compounded by the knowledge that her motherís family was sent to an internment camp as "Japs". Tanamachiís campaign enlisted the support of the Houston JACL, ADL, ACLU, LULAC, 36th Division, and other well-meaning citizens, but that first campaign was unsuccessful. This did not discourage Tanamachi from continuing this fight.

In the late 1990ís she along with Texas Representative, Jim Solis, attempted to attach an amendment to the Texas Hate Crimes Bill which would prohibit the use of racial slurs of any kind on any public street or place. However, before the bill was voted on, it was thrown out as a bargaining tool.

In 1999

, a Japanese American helicopter pilot from Hawaii, Thomas Kuwahara, happened to drive by "Jap Road" and was upset that a slur of his ancestry could be a name of a public road. From his home in Louisiana, he spent months contacting Texas legislators and local bureaucrats but to no avail. Jefferson County Commissioner, Mark Domingue, responded to Kuwahara by sending materials from the previous efforts to rename the road made by Tanamachi. He realized to evoke any change it would take more than educating the residents or local government that this was a racist sign, this was evident by Tanamachiís past attempts. He knew he needed to combine forces, so the search for Tanamachi began.

While visiting his home state of Hawaii, Kuwahara informed Lee Cataluna, a columnist for the Honolulu Advertiser, about JAP Road. A friend of Tanamachi happened to read Catalunaís article, which included the demeaning road sign plus Kuwaharaís whereabouts, and sent it to Tanamachi. She found his phone number and together they started a new campaign to change JAP Road.

In 2001, they enlisted the support of Sharon Sobie Seymour, another Japanese American Civil Rights Activist and a former President of the Seattle JACL, who was simply outraged by the name. Micki Kawakami, a Japanese American from Idaho who had successfully removed another offensive geographic description - "Chinkís Peak" - in Pocatello, Idaho, was also asked to join this campaign. Dale Minami, a civil rights lawyer from San Francisco who was the lead council in the Fred Korematsu case was the final member of this grassroots effort. Together, they formed the CCJR, "Committee to Change JAP Road".

Kuwahara and Tanamachi, on behalf of the CCJR, hired Scott Newar, a Houston lawyer who worked with the Anti-Defamation League and the NAACP, plus who spoke out against the road name in 1992. At a press conference on December 2, 2003, Sandra, Thomas and Scott released a formal complaint to the Untied States Department of Transportation and the Department of Housing and Urban Development. The Houston Anti-Defamation League, National Japanese American Citizenís League, Organization of Chinese Americans, League of United Latin Citizens, National Asian Pacific American Legal Consortium and the Urban League also signed this complaint. This action got the attention of the media and powers that be, the Jefferson County Commissioners.
Sandra Tanamachi at the Committee
hearing in Texas, July 2004

Subsequently, the CCJR and the ADL began publicizing the campaign to change the name of JAP Road. CCJR enlisted the help of Beaumont resident Marion Ferguson, of the 36th Infantry Division, who helped with the name change in 1993 as well. Fergusonís tenacious communications with these Commissioners with the added pressure from ADL afforded a meeting between the civil rights organizations and the residents of Fannett on May 25,2004 and a Public Hearing on July 19th. The May meeting included George Hirasaki, Roberto Flores, Mark Finkelstein, Jodi Bernstein, Marion Ferguson plus Commissioners Domingue and Alford, who were originally the 2 dissenting commissioners.

In March 2003, the committee, with the help from Japanese American Veterans Association Vice President Terry Shima started a letter/e-mail writing campaign to the Jefferson Commissioners. Messages from Nisei Veterans flooded in along with hundreds of concerned citizens around the country. On July 13, 2004 the National JACL started an online petition which resulted in over 4650 signatures which combined with the e-mails and letters made an impressive impact. Under the direction of Terry Shima, JAVA contacted the media across the nation. This also resulted in having information about our campaign reach people across the nation. The New York Times article written by Simon Romero caught the eye of Jefferson County Commissioner Jimmy Cokinos, and made him realize that it wasnít just a local issue any longer.

On July 19th passionate testimonies were made by individuals, representatives from the Committee and supporting organizations to include but not limited to; Jodie Bernstein ADL, Thomas Kuwahara CCJR, Sandra Tanamachi CCJR, Micki Kawakami CCJR, Marion Ferguson 36th Infantry, Kelly Kuwayama JAVA, John Tateishi Executive Director JACL, Raymond Wong National President OCA, George Hirasaki President Houston JACL, Roberto Flores President LULAC, Sam Bean Local President NAACP, Veteran Willie Tanamachi who was a born and raised in Beaumont, Rebekah Tanamachi Corkill, University of Texas honor student, Happy and Ikuko Kitayama, Japanese Texans, and Loretta Guillory,

Beaumont resident. Senator Daniel K. Inouye (click to see the letter) wrote a letter to Judge Griffith which was read to the court by Dr. Norvin Parr, Sandraís brother-in-law. This letter made the commissioners sit up and take notice to what was being read.

Despite the vocal and universal opposition from the many residents of the road, the Commission voted unanimously to change the name.

After the vote, Judge Griffith and Jodi Bernstein suggested a historical marker which would honor Yoshino Mayumi and his family.

The Commissioners

assigned Wayne Wright and Earl Callahan, leaders of the opposition, to head a committee of fellow Jap Road residents to suggest a new road name by July 29th. To the disappointment of many, 65% of the residents decided to go with the name Boondocks which was a popular local catfish restaurant which closed 10 years ago. This name was suggested to the Fannett residents by Wayne Wright. The Commissioners formally voted to rename JAP Road to Boondocks Road on August 2nd. In spite of this, the CCJR feels the elimination of a racial slur from a road sign is a civil liberties victory.

The Houston JACL requested to take the lead to rename JAP Lane in Orange County, Texas. The CCJR and the other supporting organizations agreed but, are prepared to help if asked.

In the town of Orchard, Texas located in Fort Bend County exists another JAP Lane. On July 27th Tanamachi sent an e-mail to Ft. Bend County Commissioners requesting that they rename the lane something other than a racial slur to the Japanese American community. On August 3rd she received word from Eric Hansen, of the Houston Chronicle, that Ft. Bend County Judge Robert Hebert stated that the renaming of JAP Lane has been put on their agenda and will be changed to Moore Lane after a local farmer.

Across the United States, there are other JAP Lanes and Roads, therefore, committee members are currently exploring plans to eradicate these racial slurs from public roads, buildings and landmarks. Also under investigation is whether State or Federal legislation is possible to remove all racial epithets from the public vocabulary.