Here are some excellent references related to the subject of Japanese-American Veterans:
MIS in the War Against Japan, Personal Experiences Related at the 1993 MIS Capital Reunion, "The Nisei Veteran: An American Patriot", Edited by Stanley L. Falk and Warren M. Tsuneishi, Japanese American Veterans Association of Washington, D.C., 1995. (Copies available: JAVA Books
PO Box 59, Dunn Loring, VA 22027 -- The cost will be $10.00 for each copy plus $2.00 handling and
shipping. Checks should be made out to JAVA.)
---

Honor by Fire, Japanese Americans at War in Europe and the Pacific, by Lyn Crost, Presidio Press, 1994. A review in Booklist (the review journal of the American Library Association), 1 October 1994: "This is an invaluable addition to the literature on Japanese Americans in World War II, providing the most comprehensive coverage of their military activities yet and going far beyond telling merely the admittedly epic story of the 442nd Regimental Combat Team. While the 442nd and the 100th Battalion were covering themselves with glory in Italy, other Japanese Americans had already stood to arms in defense of Pearl Harbor and volunteered by the hundreds and thousands as indispensable translators..." [This book is out of print; however, you may back order it via Amazon.com -- simply search by the title.]
---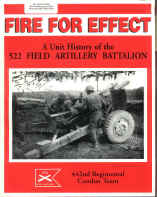 Fire for Effect, A Unit History of the 522 Field Artillery Battalion, 442nd Regimental Combat Team, by the Historical Album Committee of the 522nd Field Artillery Battalion of the 442nd Regimental Combat Team, Fisher Printing Co., Inc. Honolulu, Hawaii. "This historical book presents the little known story of the Artillery Battalion of the reknowned 442nd Regimental Combat Team of World War II. The great military successes of the 442nd as it broke the defenses and drove back the German army in the Rome-Arno and the Vosges Campaigns are significantly attributable to the effective artillery support provided by the 522nd Field Artillery Battalion in protecting and clearing the advances of the 442dn Infantry Regiment against the Germans. The 522nd earned the reputation as one of the fastest and most efficient artillery units in the European Theater of Operations in World War II. The 100th/442nd Infantrymen had high praise and appreciation for the fire support of the 522nd behind them, and sorely missed the 522nd when they had to attack the Gothic Line without the services of the 522nd...." -- 522nd Historical Album Committee.
---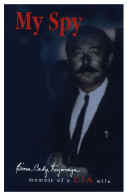 "My Spy, Memoir of a CIA Wife is truly a fascinating book about the life of Joe Kiyonaga, a 442nd veteran, who rose to high and important positions in the Central Intelligence Agency (CIA). It was written by his wife of 30 years, Bina Cady Kiyonaga. As Joe lay dying of cancer at Sloan-Kettering Cancer Center in New York, he asked Bina to bring a supply of pads and pencils for Joe wanted to dictate the details of his life , including his heretofore secretive life as a CIA operative. Daniel Inouye, Senator from Hawaii, commented "Extraordinary and profound...emotionally and patriotically satisfying...a story that demonstrates that racial differences need not serve as obstacles to a happy union. MY SPY is a story of America" . Chris Mathews, Washington Bureau Chief of the San Francisco Examiner wrote: "I love this story! It has everything-youth, adventure, romance and intrigue -- propelled page after page by a joyous , unmistakably American spirit -- Bina Kiyonaga has taken her technicolor life and given us a fabulous book" This is a story of true love, adventure, intrigue,discrimination and sorrow as experienced by a socially prominent young lady who married a Japanese American 442nd veteran, whose early life in Molokai was so simple that his first pair of shoes was for his grammar school graduation. This fascinating book can be purchased from Politics and Prose Bookstore, at 5015 Connecticut Ave NW , Washington DC 20008 for around $24.00 plus shipping and handling." -- Grant Ichikawa