Chiyoki Ikeda Posthumously Honored at CIA. - by Grant
Ichikawa



A "star" in recognition of the services to the country of Chiyoki "Chick"
Ikeda was placed on May 14, 1997 on the wall at the spacious and
impressive lobby at the Central Intelligence Agency (CIA) headquarters in
Langley, Virginia. It is one of 71 "stars," each representing a fallen CIA
officer who died while on duty.

CIA Director George Tenet paid tribute to the sacrifices and
accomplishments of Ikeda before an audience including U.S. Senator Daniel
K. Akaka (Hawaii), Ikeda's widow Maggie, and members and friends of the
Ikeda family.

"I am pleased that Mr. Ikeda's service has now been fully acknowledged by
the agency he served with such dedication," Senator Akaka said earlier. "I
hope this brings a sense of closure to his widow and two sons, who have
survived without benefit of a husband and father for thirty-seven years.
While nothing can replace those lost years, they can take satisfaction in the
knowledge that he (Ikeda) will take his place alongside other fallen heroes
of the CIA."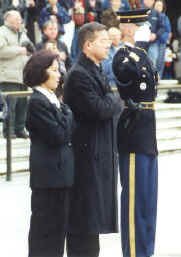 Maggie Ikeda (left), 1998, Tomb of
the Unknowns, Arlington, VA

It was through Senator Akaka's urging that Tenet personally reviewed
Chick's record and then determined that Ikeda should be awarded the
memorial "star."

Others at the ceremony included the Ikedas' son George and wife Nina with
their two children from New Jersey, son John Peter from California; a niece,
also from California; Kan and Sadae Tagami from Honolulu, and other close
friends.