Okinawa Campaign - April 1945 - June 1945 - Wartime Experiences on Okinawa by Wallace S. Amioka, Capt, AUS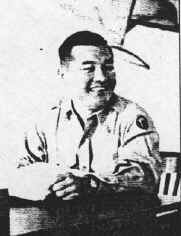 Captain Wallace Amioka, Ryukku's
Command Military Government, 1945
Following the call for 442nd Regimental Combat Team Volunteers in March 1943, the Army dispatched recruiting teams to Hawaii and mainland relocation camps to sign up Nisei with Japanese language skills I was accepted for training at the Military Intelligence Service Language School at Camp Savage, Minnesota, and arrived there on February 7, 1944.
The school moved in July to Fort Snelling Minnesota, where I continued as an enlisted student In October, I was appointed to infantry officers training at Fort Benning, Georgia, and received my second lieutenant's commission on February 6, 1945.
My involvement with Okinawa began at Fort Snelling several months before the invasion by American forces took place on 1 April, 1945. I was summoned to the Commandant's (Colonel Hollingshead) office the latter part of February. The Colonel asked me if I'd be interested in leading a special team of Okinawa descent enlisted men who had requested that I lead them. Naturally, I jumped at the chance, as I had just returned to the Language School and remained unassigned.
I wondered how this special team came about. It wasn't until many years later that I found out when I read Sergeant Tom Ige's autobiography, The Boy From Kahaluu. Ige describes the team's formation in his own story, which appears elsewhere in this booklet.
Our special team encountered difficulty in getting to Okinawa and to our proper assignment. After many delays, the Navy took us to our destination in a medical evacuation plane. We finally reached Tenth Army Headquarters at the end of April. As if to add insults to injury, the adjutant asked me, "What are you guys doing here? I don't have any orders on you guys." I think Tom Ige expressed that situation best in his book (P. 80), "We were supposed to be a very special team, but upon arrival at 10th Army Headquarters off Yomitan Air Base on Okinawa, nobody seemed to know or care about us." We were sent to the replacement center. After a few days, Navy Lieutenant Hanna from the Okinawa Military Government came to claim us. So, we spent the next ten days or so, working for the Military Government, Brigadier General Cristy, the comrmanding officer, picked me to be his aide-de-camp, his "baby sitter," body guard," and personal interpreter, and kept me hopping from early morning till late at night.
Finally, relief came when Lieutenant Swearingen, who was in charge of the Island Command 308th Hq Intelligence Detachment, bumped into me and told me he had been looking for me since he had received the orders from Hq US Army Forces, Pacific Ocean Area, assigning us to his detachment.
The order assigning us to the 308th Hq Intelligence Detachment split the team into three interrogator teams, but that didn't mean we operated in that way. Actually we were integrated into the 308th Hq Intelligence Detachment and utilized by Lieutenant Swearingen as the situation demanded. In short, once assigned to the 308th, we never operated as a team. Around May 20,1945, I was placed on TDY with the 27th Infantry Division with three members of the special team and three members of Swearingen's team at the start of the mop-up operations which consisted mainly of patrol actions. My limited knowledge of the Okinawan dialect came in handy to differentiate Japanese from Okinawan soldiers. It also helped to put Okinawan civilians at ease and to obtain information from them.
By mid-July the mop-up operations proceeded north of Nago and our POW holding and interrogation center had moved near it. The US Navy brought in a Japanese soldier who was captured at sea as he attempted to escape from Okinawa in a dinghy. Upon questioning, he stated that he had seen Lieutenant Colonel Aoyagi, the commanding officer of the 19th Air Sector Command, on Ishikawa Dake a few days ago. The POW had gone there for some rice. He pointed out the place on a map and gave a detailed description of the area where the Colonel and his staff officers were hiding out. The Colonel had built a shelter along the bank of a stream which ended in a waterfall that dropped down about 15 feet into a small pool. On our map, this area was in the sugar grid. The next day the POW unerringly led us to Aoyagi's hideout. When the Colonel and his staff tried to escape, we had to open fire and dispose of them.
2LT Wallace Amioka, Language Section,
G-2, 27th Division, questions a young boy
in Yabu, Okinawa (Signal Corps Photo)

That the war on Okinawa proved to be a very trying experience and of personal nature for members of my team of Okinawan descent was brought home to me when Seiyu Higashi asked my permission to search in the Nago Mountains for his father. Fortunately, Seiyu found his father. Another member of the special team, Jiro Arakaki, spotted his parents in one of the civilian compounds. Shiney Gima located his grandmother long after the war was over in the mountain area of Ogimi in northern Okinawa. All members of the special team eventually met up with their relatives. These were some of the happy endings for all of the team members at the tragic end of the Pacific War. In the concluding remarks of the Okinawa Campaign in The Boy From Kahaluu, Tom Ige wrote:

"For those of us of Okinawan descent, fighting with the American forces in Okinawa was a very trying experience. In addition to the physical aspect of the war, the spiritual toll war took was even harder to bear. In the eyes of the frightened civilians hiding in caves or escaping on coral roads, we could sense the tragedies of these people and well imagine what the fate of our own families would have been like, if they had not emigrated to Hawaii. During the course of the campaign, all of us on the team visited with relatives and shared their sufferings and anxiety firsthand. Looking back, one might be grateful that they emerged as well as they did; but in the midst of the battle, everything looked so dark and foreboding."

(Courtesy of "Secret Valor" by Military Intelligence Service Veterans Club of Hawaii.)