JAPANESE AMERICAN VETERANS ASSOCIATION
1749 Old Meadow Road, Suite 500, McLean, VA 22102 (Bob Nakamoto, President)
IMMEDIATE RELEASE:

August 12 , 2010

Vol. V

No. 25
CONTACT: Terry Shima 301-987-6746; ttshima@comcast.net
PHOTO: Photo accompanies this press release.
- - - - - - - - - - - - - - - - - - - - - - - - - - - - - - - - -
JAKWV AND JAVA JOINTLY PARTICIPATE IN KOREAN WAR ARMISTICE DAY CEREMONIES AT NATIONAL KOREAN WAR MEMORIAL.
Japanese American Veterans Association
The Mall, Washington, DC. The Japanese American Korean War Veterans (JAKWV), Fullerton, California, and the Japanese American Veterans Association (JAVA), Washington, DC, jointly participated in the Korean War Armistice Day Commemoration and Memorial Ceremonies at the Korean War Veterans Memorial in the nation's capital on July 27, 2010. The program began at 10:00 AM, the date and time the armistice was signed at Panmunjon, Korea, to mark the cessation of hostilities in the Korean war 57 years ago (1953) and was sponsored by the Korean War Veterans Armistice Day Coordinating Committee.
The principal speakers included Douglas M.D. Joo, PhD, President of the Washington Times Foundation, and Ambassador Duk-soo Han of South Korea. Military attaches from the 21 embassies which participated in the United Nations forces and representatives of national veterans organizations, including JAKWV and JAVA, presented wreaths. Grant Ichikawa, JAKWV life member, represented JAKWV and Terry Shima represented JAVA.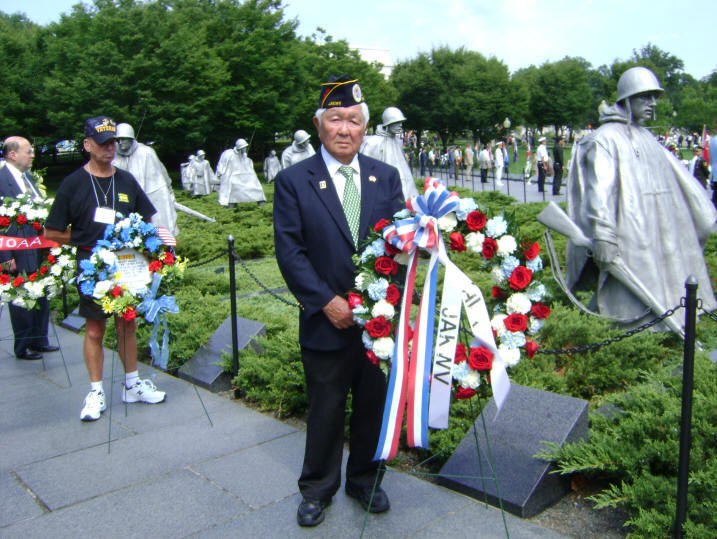 Grant Ichikawa, Korean War veteran, at Korean War Memorial, The Mall, Washington, DC.
JAKWV is a national organization representing some 5,600 Japanese Americans who served in and during the Korean War. It is dedicated to perpetuate the experiences of Japanese Americans in the Korean War. On May 24, 1997 a memorial to honor the Japanese Americans killed in the Korean War, numbering 256, was built at the Japanese American National War Memorial Court, located in the courtyard of the Japanese American Cultural and Community Center in Little Tokyo, Los Angeles. On May 15, 2001, JAKWV built and dedicated a memorial at Imjin Gak, Paju-City, Kyonggi-do province, Korea, "to foster friendship and understanding between the Korean people and the Japanese American community." Robert M. Wada, a marine who served in combat in the Korean War and Charter President of JAKWV, was a principal catalyst behind the construction of the two memorials.
The Korean War Veterans Memorial, located on The Mall near the Lincoln Memorial in Washington, DC, was dedicated on July 27, 1995, the 42nd anniversary of the Armistice. The memorial consists of 19 statues representing all branches of service and an ethnic cross section of America with 12 Caucasians, three African American, two Hispanic, one Asian and one Native American.
30