JAPANESE AMERICAN VETERANS ASSOCIATION
(Amour, LLC; 1313 Dolley Madison Blvd; McLean, VA 22101)
IMMEDIATE RELEASE:

June 30, 2011

Vol. VI

No. 20
CONTACT: Terry Shima 301-987-6746; ttshima@comcast.net
PHOTO: Photo accompanies this press release.
- - - - - - - - - - - - - - - - - - - - - - - - - - - - - - - - -
JAVA PARTICIPATED IN THREE MAJOR MEMORIAL DAY EVENTS IN WASHINGTON, DC. DECORATED 70 GRAVESITES AT ARLINGTON. MARCHED IN PARADE DOWN CONSTITUTION AVENUE
Japanese American Veterans Association
Washington, DC. The Japanese American Veterans Association (JAVA) participated in three programs during the 2011 Memorial Day weekend to honor the nation's heroes. On Sunday, May 29, 2011, JACL Washington, DC chapter and JAVA jointly held their 63rd Annual Memorial Day Service at Arlington National Cemetery. The program began at the Columbarium Ceremonial Courtyard, located with a commanding view of white headstones lined in perfect formation as soldiers on a parade ground. Speakers included Turner Kobayashi, son of the late MIS Veteran Key Kobayashi; Gordon Aoyagi, Event Program Chair; Janice Nakano Fadden, JACL WDC President; Gerald Yamada, JAVA President; Captain Rory Suzuki, USN, keynote speaker; and Lieutenant Rex Strickland, Fairfax County Urban Search and Rescue.
JAVA VIP 2010. Dr. Ray Murakami's air conditioned van trails the JAVA
marching contingent carrying water, other supplies, and participants who
prefer to ride. Photo: Noriko Sanefuji
In his speech, Captain Suzuki said that, to many persons, "Duty, Honor, Country" are slogans, however, to a "small percentage of Americans it is a way of life. . . these words represent what made ordinary people extraordinary citizens and defenders of our country." He was, in effect, referring to his family which sent seven men to serve in combat units of the Army, Air Force, Navy and the Marines, including one killed in action and another missing in action.
This dignified ceremony was followed by the laying of flowers at the gravesites of over 70 fallen comrades who are interred at Arlington and the laying of the wreath at the Tomb of the Unknown by Captain Suzuki, Lieutenant Strickland, Aoyagi and Yamada.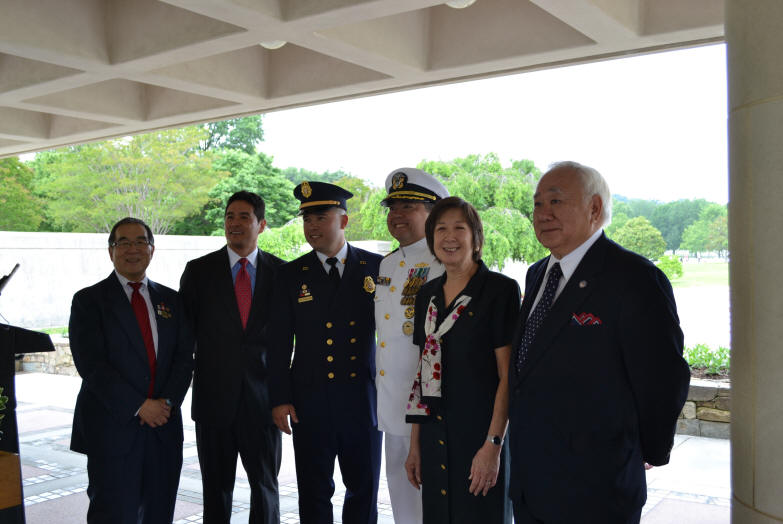 Speakers at the Columbarium Memorial Courtyard: L-R: Gordon Aoyagi; Lt Rex Strickland; CAPT Rory Suzuki; Janice Nakano Fadden;
and Gerald Yamada. Photo: CAPT Rory Suzuki.
US Navy Public Relations film crew covered the event for broadcast to US Navy and also Department of Defense installations worldwide. The two-minute program can be seen on
http://www.navy.mil/swf/mmu/mmplyr.asp?id=15850.
On Monday, May 30, 2011 a JAVA representative was part of the veterans service organizations entourage at the Arlington National Cemetery program to view the President lay the national wreath at the Tomb of the Unknown and to sit in the reserved box seat in the Amphitheater to listen to President Obama's address to the nation. He said Memorial Day recognizes America's war dead. "Our nation owes a debt to its fallen heroes that we cannot fully repay, but we can honor their sacrifice. And we must."
In the afternoon, JAVA participated in the 7th annual National Memorial Day parade on Constitution Avenue. JAVA's contingent, led by President Gerald Yamada, proudly marched down part of the same route that the 442nd Regimental Combat Team, just having returned from Europe, marched on July 15, 1946 when it was reviewed by President Truman at the Ellipse, the outer south lawn of the White House. Over 200,000 people lined the streets of both sides of Constitution Avenue shouting "GO FOR BROKE, 442ND" and respectfully saluting as the JAVA contingent marched by. 30