JAPANESE AMERICAN VETERANS ASSOCIATION
1666 K Street,NW, Suite 500, Washington,D.C. 20006, c/o Gerald Yamada, Esq.
IMMEDIATE RELEASE: Vol. II
May 29, 2007 No. 35
CONTACT: Terry Shima (301-987-6746; ttshima@worldnet.att.net
FOR PHOTO: Go to JAVA website, www.javadc.org, see press release. Picture embedded in press release in title below.
- - - - - - - - - - - - - - - - - - - - - - - - - - - - - - - - - - - - - - - - - - - - - - - - - - - - - - - - - - - - - -
JUDGE VINCENT OKAMOTO SELECTED FOR INDUCTION INTO RANGER HALL OF FAME FOR HEROISM IN VIETNAM WAR. CEREMONY ON AUGUST 8 AT FORT BENNING
Japanese American Veterans Association
Fort Benning, Georgia. Los Angeles California Superior Court Judge, Vincent H. Okamoto, was informed by General William F. Kernan, USA (Ret), President of Ranger Hall of Fame Executive Board, in a letter dated May 3, 2007, that he has been "selected for induction as a member of the Ranger Hall of Fame. With this selection, you join a select group of Rangers …" The induction ceremony will be held on August 8, 2007 at Fort Benning, Georgia.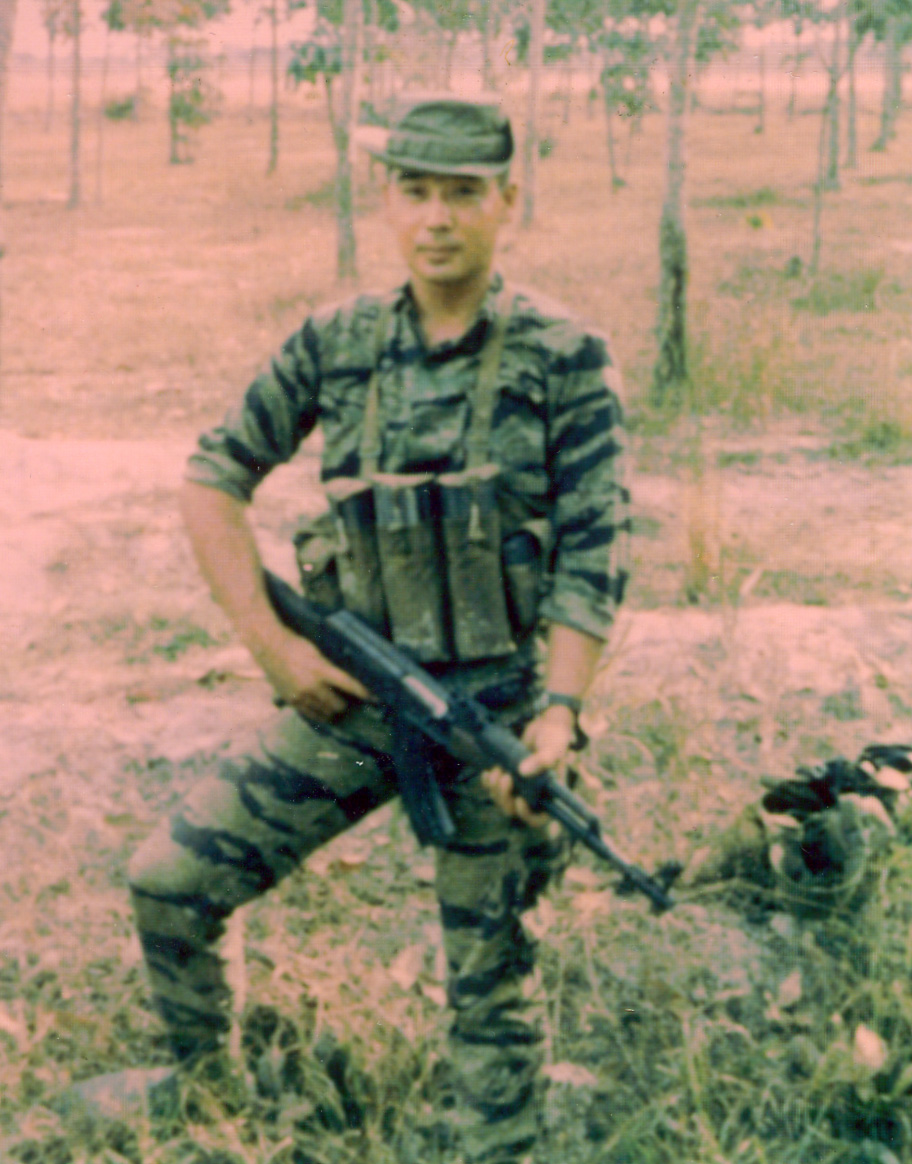 1st Lt Vincent Okamoto in South Vietnam during Vietnam
War. Photo courtesy of Judge Okamoto.
Judge Okamoto was recognized for "extraordinary heroism in connection with military operations in the Republic of Vietnam." The Ranger Hall of Fame citation continues: "Then 2nd Lieutenant Okamoto distinguished himself on 24 August 1968 while serving as a platoon leader with the 25th Infantry Division near Dau Tieng. A ground attack was launched against his battalion's night location by three reinforced North Vietnamese and Viet Cong companies.
"Under heavy automatic weapons, smalls and RPG fire, Lieutenant Okamoto moved with five of his men to restore a destroyed section of the perimeter. Realizing the need for supporting fire, he boarded a partially destroyed armored personnel carrier and manned its machinegun. After the weapon malfunctioned he ran through heavy enemy fire to a second and then a third carrier to place suppressing fire on the aggressors.
"Spying a group of enemy soldiers maneuvering toward the unit's lines, Lieutenant Okamoto crawled under cover of small arms and automatic weapons fire to less than ten meters from the communists and destroyed them with fragmentation grenades. Although wounded, he refused aid and kept fighting until the enemy force was defeated.
"For his exceptionally valorous actions Lieutenant Okamoto was awarded the Distinguished Service Cross. During his deployment in Vietnam, Captain Okamoto was also awarded the Silver Star, Bronze Star, Vietnamese Cross of Gallantry and Purple Heart with 2 Oak Leaf Clusters among other individual and unit citations.
"In civilian life he has served many veteran's and community organizations. Among many awards, he has received a commendation from President Ronald Reagan and on Veterans Day 2006 was honored as Los Angeles County Veteran of the Year. His distinguished legal career was culminated by his appointment in 2002 as a Superior Court Judge.
"Captain Vincent H. Okamoto's extraordinary heroism and devotion to duty were in keeping with the highest traditions of the military service and his Ranger training. His commitment to his mission and the welfare of the men in his command reflect great credit upon himself, the Rangers and the United States Army." 30