JAPANESE AMERICAN VETERANS ASSOCIATION

1666 K Street,NW, Suite 500, Washington,D.C. 20006, c/o Gerald Yamada, Esq.

IMMEDIATE RELEASE: April 4, 2005

CONTACTS:

Terry Shima (301-987-6746; ttshima@worldnet.att.net)

Thomas Mukai (703-751-1550;

tvictor@attglobal.net)

Photo credit: JAVA

- - - - - - - - - - - - - - - - - - - - - - - - - - - - - - - - - - - - - - - - - - - - - - - - - - - - - - - - - - - - - -

JAVA PRESIDENT MIZUSAWA SENDS GREETINGS FROM AFGHANISTAN.

MEETS MAJOR GENERAL JASON KAMIYA THERE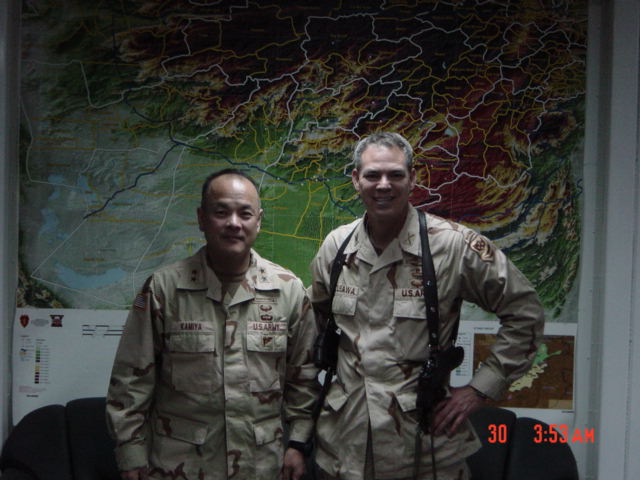 Bert Mizusawa, President of the Japanese American Veterans Association, was recalled to active duty and has served in Afghanistan since February 25, 2005. As an Army Colonel, he is serving as the Afghanistan Team Chief for Joint Forces Command's Joint Center for Operational Analysis. His teamís mission is to cull lessons learned from operations and to use those lessons in the counterinsurgency and counterterrorism campaigns in other areas, including Iraq.

Bert sent the following message from Kabul:
"To JAVA members: I am still here in Kabul, Afghanistan doing my part in the Global War on Terrorism. I had a chance to visit JAVA member Major General Jason Kamiya, the new commanding general of Combined Joint Task Force (CJTF)-76, which is responsible for the fight against the Taliban and illegal militias here in Afghanistan.
"It took me about 90 minutes to travel down the pockmarked road, including over a location where a roadside bomb injured members of the Canadian ambassadors entourage a few days ago. But the trip was worth it because I got the opportunity to spend over an hour with General Kamiya.
"He has a solid grasp of the mission, and is moving out smartly; he will make us all proud. He sends his regards to the JAVA membership and their friends. [Editor's comment. A picture of Bert and General Kamiya can be found on JAVA website: www.javadc.org]

"I will be traveling throughout Afghanistan in the coming weeks. Later this week, I will join a NATO contingent, which is studying operations here to prepare for the imminent NATO takeover in Afghanistan, for a week in Cologne and Lisbon.

"I hope everyone is enjoying better weather in the United States (it is even getting better here after the worst snowfalls in over ten years). I am still residing in a safehouse at night, and am looking forward to better accommodations when I return! In the meantime, I will keep you posted."
Prior to this assignment, General Kamiya was the Commanding General, Southern European Task Force (Airborne) (SETAF), located in Vicenza, Italy, 30 miles from Venice, the highest ranking U.S. military officer in southern Europe. He was born in Honolulu, the son of Larry Kamiya, Co. C, 100th Battalion, who was wounded in action in 1944 near Monte Cassino, Italy.
In civilian life, Bert is President of PaxCentric, Inc, a consulting firm. He previously served as a member of the Senior Executive Service assisting the Secretary of the Army and was a professional staff member for the Senate Armed Services Committee. A member of the U.S. Military Academy Class of 1979, he graduated first in his class and served as an infantry officer in Italy and on the Korean DMZ, where he was awarded the Silver Star. Bert has also received a Master in Public Policy and Juris Doctor from Harvard University.
30