JAPANESE AMERICAN VETERANS ASSOCIATION
1666 K Street,NW, Suite 500, Washington,D.C. 20006, c/o Gerald Yamada, Esq.
IMMEDIATE RELEASE: Vol. II
March 21, 2007 No. 31
CONTACT: Terry Shima (301-987-6746; ttshima@worldnet.att.net
FOR PHOTO: Go to JAVA website, www.javadc.org, see press release. Picture embedded in appropriate release.
- - - - - - - - - - - - - - - - - - - - - - - - - - - - - - - - - - - - - - - - - - - - - - - - - - - - - - - - - - - - - -
NISEI LINGUISTS RECOGNIZED AT CAPITOL HILL TRIBUTE. SENATOR AKAKA HOSTS BOOK LAUNCH
Japanese American Veterans Association
Washington, D.C. Senator Daniel K. Akaka celebrated the publication of a book on Japanese Americans who served in the Asia Pacific Theater during World War II at a Capitol Hill "roll out" on March 20, 2007. Over 200 people, including members of Congress, officials from the Defense Department, White House, Veterans Affairs and other government agencies, diplomats from countries where Nisei served, veterans organizations, the press, officials of Nisei veterans organizations nationwide, Military Intelligence Service (MIS) veterans, and members of the Japanese American Veterans Association (JAVA) thronged the Senate Committee on Veterans Affairs conference room.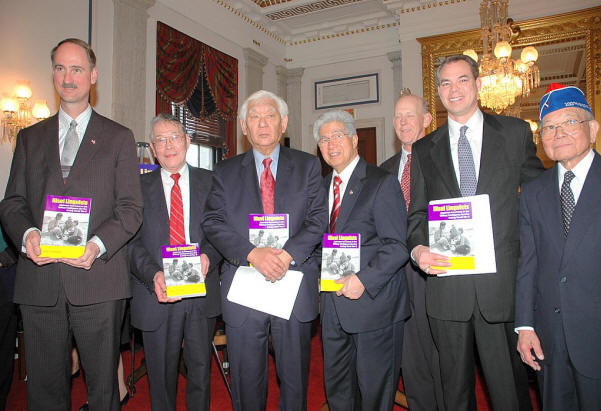 L-R: Dr. James C. McNaughton; Calvin Ninomiya; Bob Nakamoto; Senator Daniel K. Akaka;
Dr. Jeffrey J. Clarke; Brigadier General Bert Mizusawa; Terry Shima. Photo by: Eric Lachica
The book, Nisei Linguists: Japanese Americans in the Military Intelligence Service During WW II, is a 514 page documentary of 3,000 Nisei who served in the Asia Pacific Theater under great secrecy. They served in combat behind enemy lines as translators, interrogators, communication interceptors. The author is Dr. James C. McNaughton, currently Command Historian for the European Command in Germany. The work was printed by the Government Printing Office.
The roll out of the book was a joint endeavor of Senator Akaka's office, the US Army Center of Military History which published the book, the US Army Office of Public Affairs, and JAVA. The idea for the writing of the book occurred in 1994 when the JAVA President at the time, Colonel Phil Ishio, USA, (Ret), convinced Senator Akaka of the need to document the history of the Nisei service in the Asia Pacific war. Akaka and seven other members of Congress petitioned the Secretary of the Army, who approved and assigned the US Army Center of Military History (CMH) to undertake this project.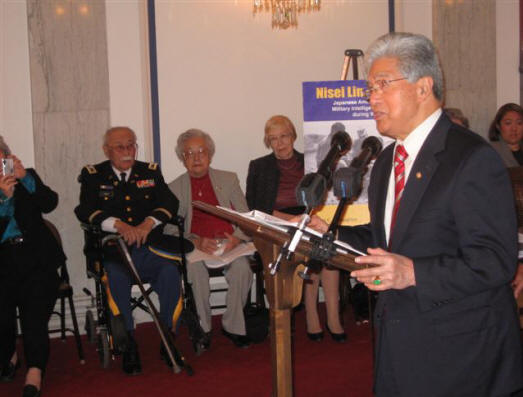 Senator Akaka addresses Nisei Linguists book launch. Photo by: Jesse Broder Van Dyke
During a 45 minute program, Akaka said the Niseis' ability to "infiltrate the psyche of our enemy through their knowledge of Japanese culture and language is credited with bringing the war in the Pacific to a quicker conclusion and later, helping turn bitter foes into strong allies." Akaka also said that to the MIS soldiers and their brethrens in the 100th Infantry Battalion and the 442nd Regimental Combat Team "it was an opportunity to prove themselves as loyal American citizens."
Senator Daniel K. Inouye regretted he could not be present due to another urgent congressional priority. In a message, that was read Inouye said: "Nisei Linguists is a testament to the uncommon valor of Japanese American men who stood by their country, even when their country -- for a time – did not."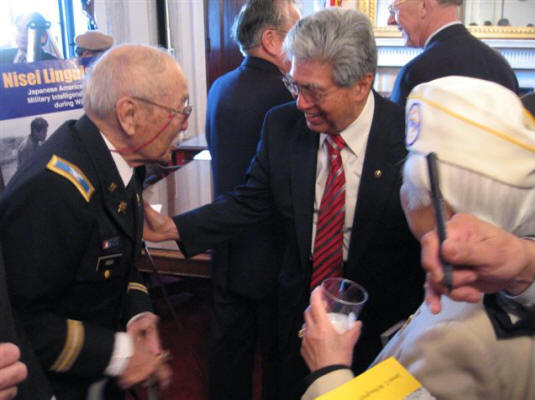 Senator Akaka and retired Colonel Phil Ishio, MIS veteran of New Guinea and Philippine
Liberation campaigns. Photo by: Jesse Broder Van Dyke
Other speakers were Dr. Jeffrey J. Clarke, Director of the CMH who spoke on the genesis of Nisei Linguists; Brigadier General Bert Mizusawa , who spoke on Japanese Americans who served in the US Armed Forces in WW II; Dr. McNaughton, the author; Colonel Harry Fukuhara, Ret who spoke of his MIS experience in the southwest Pacific and Philippine liberation; Grant Hirabayashi, who spoke of his experience in the Merrill's Marauders and Calvin Ninomiya who spoke on the MIS role in the Occupation of Japan.
Robert Nakamoto, President of JAVA and Chairman of Base Technologies, a McLean, Virginia technology firm, presented JAVA plaques to Senator Akaka and Dr. McNaughton in recognition of their respective roles in documenting the Nisei contribution to the Pacific War.
Nisei Linguists may be ordered from the Government Printing Office online bookstore at http://bookstore.gpo.gov/. Alternatively, telephone GPO at (202) 512-1800 or toll-free 1-866-512-1800. The GPO stock number is 008-029-00432-1 and the price is $29.00 each.
30