JAPANESE AMERICAN VETERANS ASSOCIATION
1666 K Street,NW, Suite 500, Washington,D.C. 20006, c/o Gerald Yamada, Esq.
IMMEDIATE RELEASE: Vol. III
January 27, 2007 No. 2
CONTACT: Terry Shima (301-987-6746; ttshima@worldnet.att.net
FOR PHOTOS: Please go to JAVA Website, www.javadc.org, scroll to Press Release. Pictures embedded in below titled article.
- - - - - - - - - - - - -- - - - - - - - - - - - - - - - - -
JAPANESE AMERICAN VETERANS HONORED BY NEW HAMPSHIRE DIVERSITY COUNCIL
Japanese American Veterans Association
Manchester, New Hampshire. The New Hampshire Cultural Diversity Awareness Council's (NHCDAC) recognized the efforts of Senator Daniel Inouye and the Japanese American Veterans Association in promoting diversity on January 21, 2008 at Radisson Hotel in Manchester, New Hampshire, attended by 250 people. The occasion was the 7th Annual Dr. Martin Luther King, Jr. "Keeping the Dream Alive" Dinner. The Council made presentations in a tribute to the Japanese American veterans and their families confined to internment camps during World War II.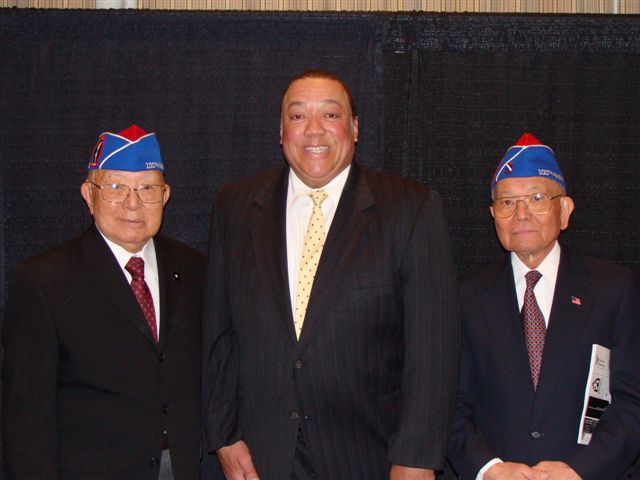 L-R. Joe Ichiuji, Wayne Jennings, Terry Shima. Photo: courtesy of Wayne Jennings.

The granite award, in the shape of the state of New Hampshire, was inscribed, "Presented to The Japanese American Veterans Association. In recognition of your great leadership at promoting diversity and the values which are adherent to our country and the dreams of Dr. Martin Luther King, Jr." In presenting the award, Mr. Wayne D. Jennings, Chairman of NHCDAC said "We are honored to have Joe Ichiuji and Terry Shima speak at our dinner. America is proud and appreciative of the contributions that the Japanese American veterans have made to make our country a strong nation." NHCDAC, founded in 2000 by Mr. Jennings, is a not-for-profit volunteer organization, dedicated to bring together people of diverse ethnic backgrounds to work together on various cultural issues facing the nation today.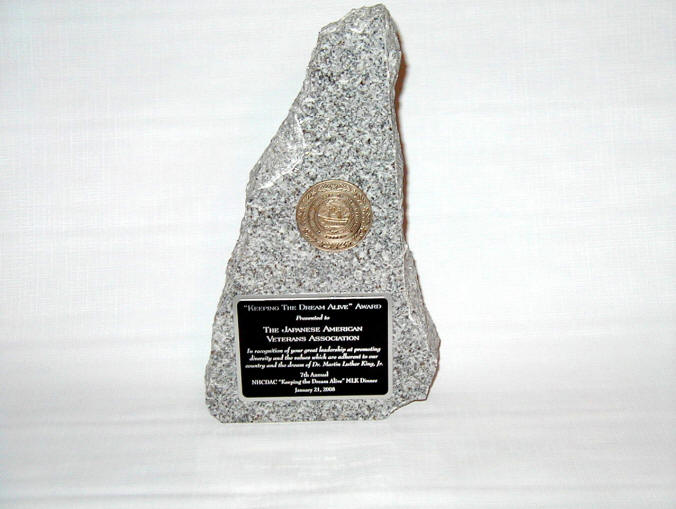 Ichiuji and Shima, both World War II veterans of the 442nd Regimental Combat Team and JAVA members, accepted the award on behalf of JAVA. Senator Inouye, who was unable to attend the Dinner, will receive the award in Washington, DC during the Asian Pacific American Heritage Month in May 2008. Other Japanese American guests who were invited to the dinner were Dr. Susumu Ito, 442nd RCT veteran and Professor Emeritus, Harvard University and his wife, Minnie; Tetsuo Takayanagi, Military Intelligence Service (MIS) veteran and his wife Mae; Dorothy Yamashita, wife of the late Dr. Kanshi Stanley Yamashita, MIS veteran, of Lebanon, New Hampshire and her daughter Mari Demoya; and Grey S. Emmons, a student at Tuck Business School at Dartmouth University.
US Senator John E. Sununu, Special Guest Speaker, discussed highlights of developments in the US Congress, his close fraternal relationship with Senator Inouye, and the Nisei experiences during WW II. He applauded the efforts of various Japanese American organizations to educate the American public on their internment experience so no ethnic group will have to experience a similar situation again.
A veteran of the 522nd Field Artillery, 442nd Regimental Combat Team, Joe Ichiuji related his experience during WW II. Even though he had been drafted into the Army before Japan's attack on Pearl Harbor on December 7, 1941, he was discharged because of his ethnic background and assigned Draft Board classification 4C, a designation ascribed to enemy aliens. Disillusioned for being "kicked out" of the Army for no reason but his Japanese heritage, he returned home to help his parents pack to go to the internment camp. When the call for volunteers for the 442nd Regiment was announced, Ichiuji was among the first from his camp to volunteer. He served in Italy, France and also Germany, where his unit liberated a sub-camp of the Dachau extermination center. Ichiuji said he found it an irony that he did this while his own family was locked up in an internment camp in the US.

Joe Ichiuji received standing ovation following his speech.
L-R: Fred Kocher, Master of Ceremony; Wayne Jennings; Ichiuji; and Pastor
Carolyn Keilig. Photo by Melissa Ogle
JAVA Executive Director Terry Shima, the keynote speaker, said "Japanese Americans have experienced racial hatred and prejudice not unlike African Americans. After the Second World War, for example, returning Nisei combat veterans entering restaurants and barbershops bedecked with medals were told, "We don't serve Japs here."
"The Japanese American community has long subscribed to Dr. King's vision, 'that children of color should not be judged by the color of their skin but by the content of their character.' During World War II, both the African Americans and the Japanese Americans had their respective segregated Army units. In a remarkable twist of history, during the Po Valley Campaign in Italy, the Nisei 442nd Regimental Combat Team was attached to the African American 92nd Infantry (Buffalo) Division. Together, these segregated minority units dealt the final blow that caused Germany to surrender unconditionally in Italy." He also described the heroism of Japanese Americans who served in the Asia Pacific theater.
Shima also cited the "huge welcome of the returning 442nd Regiment in New York City and the review by President Harry Truman in Washington, DC in July 1946 as the first official government action to reverse the tide of prejudice and discrimination against Japanese Americans. He cited the cooperation between the Japanese American Citizens League and the NAACP on various civil rights issues. He also described the National Japanese American Memorial to Patriotism, located one block from the nation's Capitol Building, as a symbol of Nisei courage, perseverance and patriotism. He encouraged the people of the granite state "to visit this landmark, for the Memorial by itself represents the Greatness of America." 30