Gold medal replicas donated as awards to AJA veterans
POSTED: 01:30 a.m. HST, Nov 11, 2011
At least 500 bronze replicas of the Congressional Gold Medal will be given to Japanese-American soldiers of the 100th Battalion, the 442nd Regimental Combat Team, the Military Intelligence Service and 1,399th Engineer Construction Battalion at a luncheon Dec. 17 at the Hawai'i Convention Center.
The gift of the 3-inch replicas is sponsored by BAE Systems, said Pauline Sato, president of the 100th Infantry Battalion Veterans.
<![if !vml]>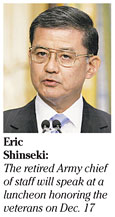 <![endif]>
An October 2010 federal law authorized the gold medal to honor nisei, or second-generation Japanese-American soldiers, who served in the 100th Battalion, the 442nd and the MIS. But Sato said, "the sponsor wishes to have the replica medals go to living veterans" who attend the luncheon, as well as to nisei of the 1,399th Battalion who are from Hawaii but were not sent into combat and spent World War II building facilities in the islands.
"If additional medals remain (after the luncheon)," Sato said, "then they will be given to living veterans of the same who could not physically attend due to illness or inability to travel."
Sato said Japanese-American veterans can sign up to receive the replicas through their veterans clubs -- 100th Battalion at 946-0272 (email club100vets@gmail.com) or the 442nd Veterans Club at 949-7991 (email 442veterans@hawaiiantel.net).
Veterans of the MIS and the 1,399th Battalion can register through either Club 100 or the 442nd Veterans Club, Sato said.
The original gold medal is being kept by the Smithsonian in Washington, D.C.
The bronze replica is also available for purchase from the U.S. Mint at $44.95 each online through catalog.usmint.gov/index.html, but the site says they won't be ready until Nov. 24.
Veterans Affairs Secretary and retired Army Chief of Staff Gen. Eric Shinseki, who was born on Kauai, will be the guest speaker at the Dec. 17 luncheon.
Tickets are $75, $50 for children under age 10. The deadline for reservations is Dec. 1. Checks should be made out to the Go for Broke Association CGM and sent to the association at P.O. Box 88234, Honolulu 96830.
Registration and other information are available at Club 100, 946-0272, or by emailing club100vets@gmail.com; or visit the website www.congressionalgoldmedalhawaii.com.
A "victory parade" will be held before the luncheon with trolley cars picking up the veterans at the convention center at 9:30 a.m. and proceeding to Fort DeRussy, then on to Kalakaua Avenue, ending at Kapiolani Park. At the end of the parade, the trolley cars will take the veterans back to the convention center for the luncheon.
A memorial service will be held at 9 a.m. Dec. 18 at the National Cemetery of the Pacific to honor the Congressional Gold Medal recipients.