Press Release.
WASHINGTON — A ceremony two years in the making became a reality Wednesday as members of the House of Representatives and Senate gathered to present Nisei veterans of World War II and their families with the Congressional Gold Medal, the nation's highest honor.
With scores of photographers recording the moment, the medal was presented by the Republican and Democratic leaders of Congress to veterans representing the U.S. Army's three Japanese American units: Mitsuo Hamasu of the 100th Infantry Battalion, Susumu Ito of the 442nd Regimental Combat Team, and Grant Ichikawa of the Military Intelligence Service.
The U.S. Capitol's Emancipation Hall was filled with veterans in their 80s and 90s as well as spouses of deceased vets and family members of those who were killed in action. In addition to members of Congress, dignitaries included Secretary of Veterans Affairs Eric Shinseki and former Secretary of Transportation Norman Mineta.
The U.S. Army Band played "Battle Hymn of the Republic," "God Bless America," and, with the Army Chorus, "The Star-Spangled Banner" and "The 442nd Song." Colors were presented by the 100th Battalion/442nd Infantry Regiment Color Guard.
House Speaker John Boehner, who greeted the audience with "aloha" in a nod to the many vets from Hawaii, said that legislation signed by President Obama last year authorized the awarding of the Congressional Gold Medal to "the Japanese American warriors who made our victory in World War II possible."
"It is my privilege to welcome all the recipients on behalf of every American and we are humbled by your presence today."
<![if !vml]>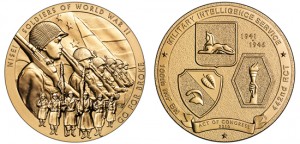 <![endif]>
Dr. Barry Black, chaplain of the Senate, gave the invocation, saying of the veterans, "May their exemplary service inspire us to cultivate in our lives their courage in danger, their steadfastness in triumph, their perseverance in difficulty … their love, which nothing can change, and their joy, which nothing can take away."
Rep. Adam Schiff (D-Pasadena), who introduced the Congressional Gold Medal bill, HR 347, in the House in 2009, remarked, "These remarkable men left a segregated nation to fight and defend America with no guarantee that their own freedom would be defended in return."
He quoted several veterans, including Ichikawa: "On Feb. 19, 1942, President (Franklin) Roosevelt signed Executive Order 9066. That was the blackest moment of my life–being treated as an enemy alien."
"These American heroes … fought for the values of America, equality, justice, opportunity, even when those values were denied them at home, and they paved the way for millions of other Americans who proudly wear a uniform today … It is an honor to be in the same room with you," Schiff said.
Rep. Ralph Hall (R-Texas) commented, "The brave soldiers of the 442nd had the motto 'Go for Broke,' and that's exactly what they did … Their very heroic efforts are legendary and evident by the thousands of citations, including 9,000 Purple Hearts, awards and accolades bestowed on the members of this regiment … the most decorated of any unit of its size in the U.S. Army."
He said of Sen. Daniel Inouye (D-Hawaii), a veteran and Medal of Honor recipient, "I've served with him in Congress for many years and we've had several opportunities to work together. I'm fortunate to count him as a friend. I have great admiration and respect for the courage and determination that he displayed during the war."
Sen. Barbara Boxer (D-Calif.) carried the Senate version of the Congressional Medal of Honor bill, S 1055. She quoted President Harry Truman as telling the Nisei soldiers, "You fought not only the enemy, but you fought prejudice – and you won."
"You enlisted even as many of your family members and friends were sent to internment camps," Boxer added. "You served your country despite being subjected to hurtful slurs and deep suspicion from many of your fellow citizens. Your bravery led your units to become known as 'Go for Broke' because of your willingness to risk everything for America …
"While we can never repay the debt that we owe you, we can and we must recognize your valor and your patriotism, and that is what we are doing here today. So thank you for everything and thank you for making sure we preserve the incredible story of the 'Go for Broke' regiments for future generations."
Sen. John McCain (R-Ariz.), a Vietnam veteran, said that the Nisei "did everything that was ever asked of them and more. What is most remarkable is that they did so despite the fact that our nation at times fell short of its responsibilities to them and Americans like them."
The ceremony was significant in another way, he continued. "It's not every day that the leaders and members of Congress have an opportunity to put aside our usual differences over the pending business of the day to join together in bipartisan unanimity to pay tribute to fellow citizens who have served a just cause greater than their own self-interest. This is therefore a special day."
House Democratic Leader Nancy Pelosi of San Francisco said, "It's a point of pride for me that so many of today's awardees have San Francisco ties. The Japanese American community enriches our city and is a source of strength to us. She noted that one Nisei from her district, Yoshio Wada, helped to liberate the Dachau death camp in Germany; another, Frank Masuoka, serving in the Pacific, negotiated the peaceful surrender of hundreds of Japanese soldiers.
"Several in my district were part of the effort to rescue the Lost Battalion … which had been tried and failed twice before," Pelosi added. "In that single campaign, the 442nd suffered over 800 casualties. The I Company, which broke through the last German roadblock, went in with 185 men and only eight walked out uninjured …
"It's another source of pride to me that many of their accomplishments have been memorialized in the Presidio of San Francisco (where) Building 640 … was the first headquarters of the MIS … We're grateful to the National Japanese American Historical Society for their efforts to create a museum in San Francisco to honor those who served in the MIS."
In addition to Inouye, another member of Congress, Rep. Mike Honda (D-San Jose), was accepting the gold medal on behalf of his father, Byron, who volunteered for the MIS "even though his wife and children were behind barbed-wire fences in an internment camp," Pelosi noted.
Paying special tribute to those who never came home, she said the Nisei vets "bring luster to this gold medal, bring honor to this Congress."
Senate Republican Leader Mitch McConnell (R-Ky.) quoted President Bill Clinton as saying of the Nisei soldiers, "Rarely has a nation been more well served by people it had so ill treated."
Calling the MIS linguists "America's secret weapon in the war with Japan," he quoted Gen. Douglas MacArthur as saying, "Never in military history did any army know so much about the enemy prior to an actual engagement."
"Through their tireless efforts during the war, they hastened its end and therefore ensured that countless more lives were not lost," McConnell said. "Through their tireless efforts after the war, they laid the groundwork for the close relationship that the U.S. and Japan have enjoyed, against all odds, ever since."
Thanking the vets for "their matchless record of bravery and service," he told them, "Congress honors you today with this medal, but believe me, the honor is all ours."
Senate Majority Leader Harry Reid (R-Nev.) said that the Buffalo Soldiers, an African American unit of World War II, recognized that the Japanese Americans were "as loyal as German Americans, Italian Americans, any other Americans of foreign ancestry, a category into which all of us fall." Reid agreed, pointing out, "In the end, the blood they shed defending American freedom on the battlefields of Europe … was just as red."
Speaker Boehner noted, "For Japanese Americans, the days and months after Pearl Harbor must have seemed like a giant and painful step backwards. Removed from their homes and placed in camps, these loyal Americans endured years of discomfort and disgrace. But out of this story of prejudice comes another story that reaffirms America's worth."
He recounted the Nisei soldiers' "baptism of fire" in the brutal Italian Campaign. "In Italy, the 100th fought the rain and bitter cold, they fought sickness, they fought trench foot, all while fighting the Germans uphill … The Nisei soldiers quickly established a reputation as some of the best combat soldiers on the front.
"This reputation was sealed early on when two of their members were attacked on Nov. 29, 1943 by some 40 German soldiers. Things turned out pretty badly for those Germans - 38 killed, one wounded, one captured … Their bravery and selfless dedication was reflected by all the Nisei fighters wherever they engaged the enemy."
Boehner thanked the vets for "fighting to make this the greatest nation on earth."
Sen. Inouye, who received a standing ovation, recalled, "Seventy years ago, Pearl Harbor was bombed by the Japanese. As a result … Japanese, whether citizens or immigrants, were declared by the government as being enemy aliens … But we didn't sit by and do nothing about it. We petitioned the government to give us an opportunity to demonstrate our love for country and our patriotism, which was granted to us …
"It's been a long journey but a glorious one. We wish to thank all of you, all Americans, for this recognition … I'm certain that I speak for all assembled here, but more importantly I'm sure that those who are resting in cemeteries are pleased with this day."
Rev. Patrick Conroy, chaplain of the House of Representatives dedicated his benediction to "those who made the ultimate sacrifice … and those who suffered personally the pain of rejection in those dark days."
The three-day celebration included a Bronze Star Medal ceremony and a gala dinner at the Washington Hilton, visits to the National World War II Memorial and the National Japanese American Memorial to Patriotism, and a remembrance ceremony for those killed in action.